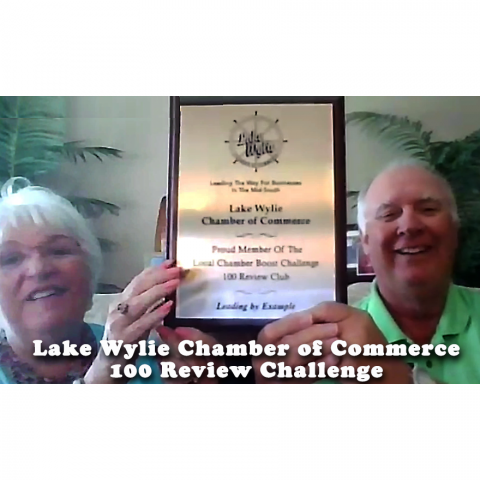 - September 15, 2020 /PressCable/ —
The Lake Wylie Chamber of Commerce is guided by their Mission Statement – "To build a business environment that creates economic prosperity for our members and our community by serving as the voice of the business community and by providing a support network for members".
Recognizing the critical need for the Chamber and its businesses to become more savvy in the ways of modern Digital Marketing, long-standing Chamber President & CEO, Susan Bromfield, engaged in a strategic partnership with The Local Chamber Boost (LCB) Group to make that happen.
According to Susan Bromfield; "for many small businesses, it's daunting, because they're trying to keep their business going". And with a community badly affected by Covid-19, Susan added "Our area was devastated by the pandemic and with our office being closed I felt a need to reach out to the members to just see how they were doing and if there was anything I could help them with".
With an ever increasing need to be found online by local consumers, The LCB Group (led by Ray Makara, Patrick Dickson, Scott Powell, and Rick Scherer) is the perfect strategic partner to help educate the Chamber members on how to best utilize Online Reviews, Video Marketing, Press Releases, Social Posting, and other highly effective modern Digital Marketing techniques.
Utilizing The LCB Group's 90 day road map, the Lake Wylie Chamber of Commerce has achieved a milestone accomplishment by becoming only the third chamber in history to complete The LCB Group's 100 Review Challenge, and one of only a handful of chambers in the history of the United States with 100 or more reviews.
Review team volunteers Charlie Bromfield and Melanie McClure took The 100 Challenge personally by reaching out to each Chamber member to ask how they were doing, and how the Chamber can help them, in addition to garnering the 100 reviews. Charlie commented; "every member we called enthusiastically responded by giving the Chamber a positive 5 Star Review".
When asked why she decided to partner with The Local Chamber Boost Group, Lake Wylie Chamber President and CEO, Susan Bromfield said; "But your company offers the support and service to be able to help these small businesses and if they choose to have that support service, it's affordable, it's Hands-On, it's not needy and it'll be a service that will be available to the small members that they couldn't afford on their budget to put somebody on staff to do social media to manage reviews to do all that, so that support will be invaluable to all small businesses as your team is there to help them."
The Digital Marketing strategy developed by The LCB Group highlights, among other things, the importance of online reviews for local businesses, as Google considers reviews to be a significant part of its local search results ranking algorithm. The unique combination of services inside this strategy is specifically designed to help get local businesses ranked in the Google 3 Pack, as well as on Page 1 of organic Google search results.
Susan made it very clear as to how critical online reviews are for local businesses, and how important it was for her Chamber to lead its members by example via The 100 Review Challenge by saying; "So we will need to lead by example and, if we can do the 100 reviews then we knew in our community whether it's the local Italian Restaurant that certainly new comers don't know where to go get pizza and we have lots of new comers, so if we could have 5 star reviews, all through our community of our businesses, then now a days with people using the internet more and more with more new comers coming into the community it would be positive for our businesses in the community".
With all of the daily challenges and obstacles facing small businesses, most don't have the time or resources to devote to successfully navigating the online marketing mine field. But because of the insight and leadership of the Lake Wylie Chamber of Commerce, the future is much, much brighter for its members.
Lake Wylie Chamber of Commerce
264 Latitude Ln Suite 101
Lake Wylie, SC 29710
(803) 831-2827
https://lakewyliechambersc.com
https://goo.gl/maps/DNvxSD1bhNuSgqu37
Release ID: 88976789