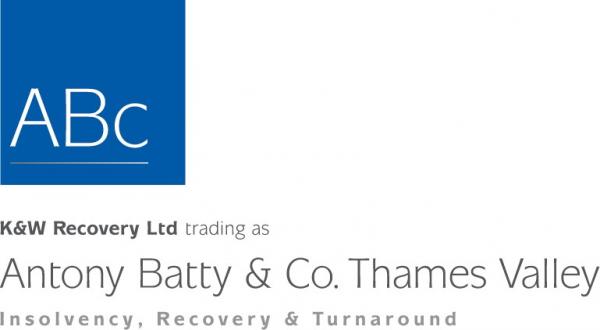 - November 24, 2021 /PressCable/ —
We are delighted to announce the creation of K&W Recovery Limited (KWR), trading as Antony Batty & Co. Thames Valley. The company is headed up by Licensed Insolvency Practitioners Lawrence King and Matt Waghorn and specialises in insolvency, recovery and turnaround. They will be operating from two offices – primarily in Abingdon, Oxfordshire, with a satellite office in Reading.
Lawrence King takes up the story
"This new venture is a result of Matt and I, who have known each other since 2005, deciding to combine forces under a new umbrella and leave our respective Practices of Critchleys and Azets. Matt joined me on the 1st of July 2021. Our new Insolvency Practice, KWR has purchased Critchleys' Business Recovery and Insolvency Practice as a going concern with all my existing appointments with Critchleys and all of the Team coming with me to our new offices in Milton Park, Abingdon, meaning we'll be up and running and fully operational straight away."
Lawrence continues:
"When Matt and I first discussed last year our shared vision of how to run an Insolvency Practice and our wish to work together on a day-to-day basis, it became quite apparent that our vision ethos truly was shared in terms of putting both staff and client service first and creating an atmosphere of collaboration."
The Antony Batty Connection – Shared Vision, Values and Work Ethic
During the early phase of their discussions, Matt and Lawrence were introduced to Antony Batty the founder and MD of Antony Batty and Company LLP.
Antony Batty says "It became clear very quickly that we share the same vision, values and work ethic. I welcome Matt, Lawrence and their team into our family and I am very much looking forward working with them, as we add K&WR's offices in Abingdon and Reading to the existing ABc offices in London, Bournemouth, Brentwood, Croydon, Salisbury and South West & Wales.
Lawrence adds:
"We quickly realised that the benefits of a joint venture with Antony were great. We have decided to trade under the Antony Batty & Co trading style accordingly, with all the advantages that such an arrangement clearly brings. Whilst K&W Recovery is a separate entity to the rest of the Antony Batty & Company family, we look forward to working with and getting to know our new colleagues in London and the various other offices as soon as possible.
The team is strengthened further by John Kirkpatrick, a well-known name in the insolvency industry who joined Antony Batty in June 2020. John will be a main contact, and senior business development manager in the Reading office, and a key part of the new Thames Valley team.
We would like to thank all our introducers of work who have got us both to this point, in particular those professional contacts who have supported, encouraged and indeed acted for us in setting up this exciting new chapter of our lives. We look forward to working with you for many years to come."
Contact Details for KWR
In the first instance, please contact Lawrence King by email lawrence@kwr.antonybatty.com or mobile: 07772239731.
https://www.antonybatty.com/kwr/thames-valley/oxfordshire-office
Release ID: 89054216