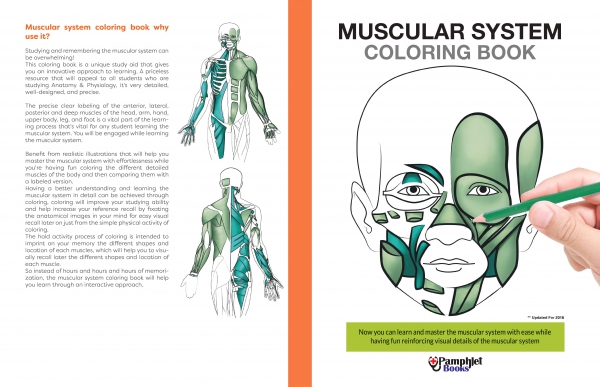 - March 5, 2017 /PressCable/ —
The Muscular System Coloring Book, a never-before-created adult and professionally designed anatomy coloring book designed to make identifying and memorizing human muscle locations as easy and fun as possible, is now available for purchase on Amazon.com for all medical students and fitness gurus intent on knowing every single muscle name and location in the body.
Borne from a passion for making human muscles so much easier to learn and effectively master the muscular system and anatomy of humans as effective and convenient as possible, the Muscular System Coloring Book will do just that with realistic medical anatomy illustrations that are imprinted in users minds via therapeutic and regimented coloring; which will instill those illustration in the person coloring the labeled and unlabeled illustrations.
"This coloring book is full of realistic muscular diagrams that cover every single muscle in our complex bodies," said humanbodycoloringbook.com, Founder and Owner of the Muscular System Coloring Book. "So, while people are having fun selecting colors and taking their time outlining different muscles, they will be effectively learning the entire make up of our muscular systems for long-term memorization."
Developed to provide an interactive studying element for memorizing the hundreds of detailed muscles in the body, this new coloring book is the ultimate human body learning tool for knowing the muscular system and locations of each and every individual muscles.
"It has been proven that coloring actually imprints visual images in our memories much more permanently than attempting to memorize sentences in a textbooks," said humanbodycoloringbook.com. "Plus, while students are using our book to master their medical fields, they will also be relaxing and having fun at the same time – when was the last time studying was so much fun and enjoyable?"
The Muscular System Coloring Book is an unfounded interactive approach with guaranteed results.
Checkout this Youtube video preview: https://www.youtube.com/watch?v=5Wr32A1oJB0
Release ID: 173189