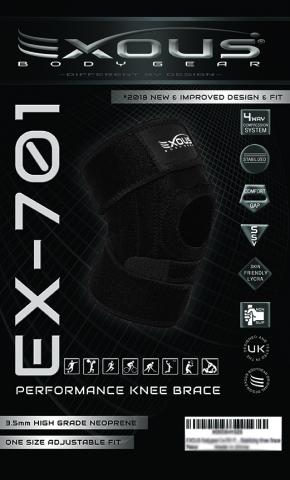 - August 23, 2018 /PressCable/ —
EXOUS Bodygear, a company specializing in cutting-edge performance and support gear, announced that its widely popular EX-701 knee support brace has received a registered design patent. The product features a cutting-edge 4-way compression system with a non-slip design and a comfort gap, making it ideal for users with a variety of knee issues, including mild knee sprains, patella tendon pain, post-injury recovery and many others.
More information can be found at http://www.exousbodygear.com/products/knee-support-brace.
Knee braces are helpful for people suffering from knee problems, as they provide the necessary support for the ligaments to heal, alleviate knee cap pain and allow users to enjoy physical exercise without worrying about damaging their knees.
The knee support brace from EXOUS Bodygear is based on a 4-way compression system which surrounds the knee and provides full dynamic support. The non-slip design ensures that the knee brace stays in the same place even during lengthy runs, while the comfort gap is designed to provide the necessary ventilation, thus eliminating excessive sweat and heat.
To ensure maximum efficiency, the knee brace features double lateral and medial stabilizers, offering support for ligaments both inside and outside of the knee.
The EX-701 has been widely appreciated for its design, comfort and efficiency, with users throughout the world using it for the management of various knee conditions.
A satisfied user said: "I have a torn meniscus and extended walking can be quite painful. I decided to use this brace for a multi-day backpacking trip. I was shocked the first night, when after 8 miles with a 35 pound pack, my knee felt great! This brace is lightweight and fits well under some of my work slacks and I've since worn it anytime my knee is achy in the morning. I've also used it for landscaping work and I'm impressed with the amount of support provided. I'll be buying another when this one wears out!"
Interested parties can find more information by visiting the above-mentioned website.
Release ID: 396031