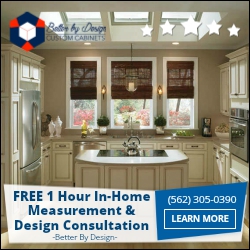 - March 31, 2017 /PressCable/ —
Kitchen remodeling company http://betterbydesignkitchens.com in Santa Ana believes the kitchen is central to any home. It is often referred to as the heart of a home. So when it comes to kitchen remodeling or a new kitchen, they want to create the best-possible space in the home. It has to be elegant and practical, both at the same time. Better By Design, a trusted name in the business, has been providing custom remodeling services to its clients in California for many years. Whatever custom choices its clients may have – from cabinets to counter tops to kitchen flooring, it covers all aspects of designing and installation.
Kitchen Remodeling Design Services in Santa Ana
"We cover all aspects of kitchen remodeling including 3D design," David Scott of Better By Design said. "Our 3D designs provide our clients a real-like picture of the final outcome. We take all the inputs from our clients and develop the design. You can check the design from different angles and decide whether to make any changes," he added. The company also provides interior design services.
The company specializes in designing and installing cabinets and counter tops. It deals with all types of counter tops which are prevalent in the market. "Whether someone is looking for a classic look and material option or something contemporary, we have everything on offer," David said.
It supplies counter tops from all the leading and trusted brands. "The size and dimensions of your counter tops can be determined based on our drawings and 3D design. We can always come up with a highly precise calculation based on our proven design process," David added.
Cabinets & Hardware
Better By Design supplies all the popular types of cabinets and cabinet hardware to clients in Orange County. "The choice of the right cabinet material and design has a huge impact on both the aesthetics and functionality of your kitchen. Assisted by our 3D design process, we can deliver highly precise kitchen remodeling services for our clients," David said.
Better By Design in Santa Ana claims to develop the kitchen design within a period of 2 days. It provides a free 1-hour measurements and design consultation session to start with. What makes Better By Design different from other kitchen remodeling services in this market is that there is no non-refundable designing fee. It has serviced hundreds of homes in and around Santa Ana, delivering services covering premium and budget range.
For more information about Better By Design and its services kindly contact the company directly.
Release ID: 182048