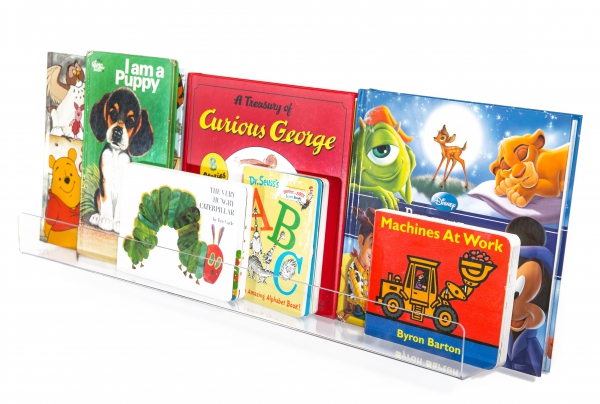 - December 11, 2017 /PressCable/ —
Better The Day today reflected on its release of their Kids Invisible Floating Bookshelf 21 months ago. The main aim was always to inspire kids to love reading by floating colorful children's books on thousands of little bedroom walls…. and by defying convention, their Kids Invisible Bookshelf did so, with a twist.
Christee Hershberger, toddler mom and Founder of Better The Day, says: "We wanted to try something new with our Kids Invisible Floating Bookshelf. Anyone familiar with the Kids Bedroom & Early Learning market will probably have noticed how everyone else always seemed to build bulky bookcases that steal valuable floorspace from a child's small room or convert spice racks into bookshelves. We felt this was a problem because children become bored with their books and their bedroom ends up feeling so small."
So as a welcome breath of fresh air, the Kids Invisible Floating Bookshelf instead turns colorful book covers into wall art and makes a child's small room feel huge! Better The Day chose to make this bookshelf because they believe a good book should never be hidden!
Christee Hershberger also said "We want to give our customers a new way to inspire kids to love reading. With our Kids Invisible Floating Bookshelf, we have a fresh new way of doing just that. We want children to feel excited when using our invisible bookshelf. Trying something new is always a risk, but it's a risk we believe is worth taking because our bookshelf looks great and really works."
Better The Day has been in business since 2015. Since Day 1 it has always aimed to create products that inspire children to love learning.
Better The Day enjoys defying convention. In 2016 they caused a stir as being the first on Amazon.com with an acrylic bookshelf and have since been a consistent amazon best-seller. All bookshelves are Made in the U.S.A.
Kids Invisible Floating Bookshelf is available at amazon.com. To find out more, it's possible to visit https://www.bettertheday.com/collections/modern-home-design/products/better-the-day-kids-invisible-floating-bookshelf-24-inch-clear-acrylic-wall-shelf
For further information about Better The Day, all this can be discovered at https://www.bettertheday.com/
Release ID: 275627