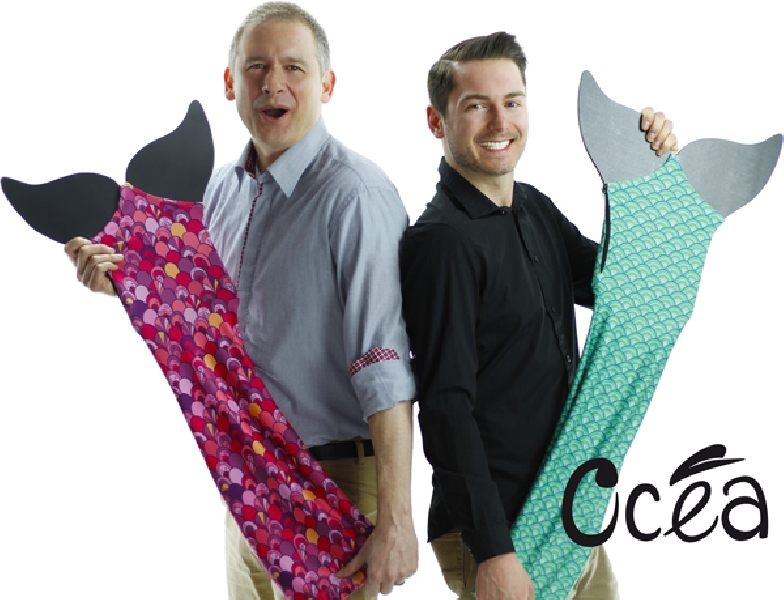 - May 12, 2015 /PressCable/ —
Today is the launch date for Ocea Creations "Believe in Mermaids… Save the Oceans!" Kickstarter campaign. This project is centered on a Mermaid set for kids aged 6 through 12. The Ocea Mermaid set includes a recycled monofin, a mermaid skin, and a mermaid top to transform children's mermaid fantasies into real life water experiences. "We also include a mermaid's journal in sets so children can learn more on how they can help do their part to keep the oceans healthy", said Mikael Brisebois, chief idea generator for Océa Creations.
After watching a TED talk by Sylvia Earle and seeing the documentary "Mission Blue", Mikael Brisebois and Daniel Vaudrin, knew they had to do their part to preserve the "blue heart of the planet." "We decided to combine fun and ocean education together," said Vaudrin. Many professionals involved in the sciences related to the oceans often cite experiences as children as their inspiration to become guardians of the ocean. Vaudrin adds, "The world needs more marine experts, and we thought fun and education could be a great way to inspire kids to consider ocean studies later on."
The Ocea Mermaid set is a fantastic way for kids to stay active in a pool, lake or ocean. Ocea products are also made with the environment in mind. The monofin is manufactured from recycled plastic, the water bottle is a reusable and lightweight and the journal will be produced by an environmentally friendly printer. The entrepreneurs have worked hard to get a product that will spark the imagination of kids and be tons of fun. Now they need some support to create their first order. "Through your support on Kickstarter, we will be able to reduce the price of the Ocea Mermaid kit to a family-friendly level," say the co-founders of Ocea Creations.
In exchange for pledging to the project, backers can access a variety of rewards. Rewards start at $1, basic Mermaid sets start at $90 and higher levels have a limited number of potential backers and offer great options such as designing one's own skin and even getting a video shoot for 3 of your favorite mermaids.
For more information visit their Kickstarter page here or contact them directly.
Release ID: 81718