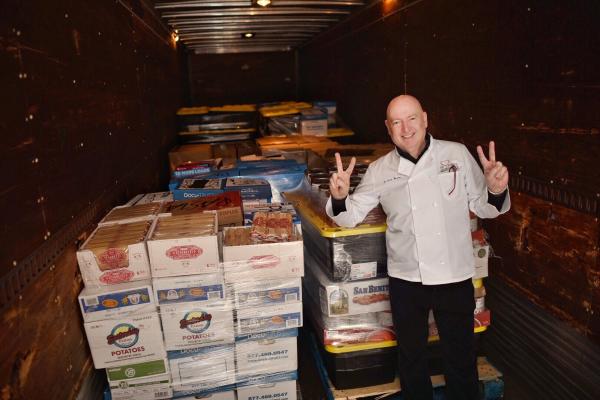 - November 26, 2020 /PressCable/ —
The 10th annual KFI AM 640 PastaThon benefiting the nonprofit Caterina's Club will take a virtual turn this year. Typically, LA's #1 talk radio station broadcasts the event live from Orange County where fans are encouraged to donate cash, pasta and sauce while meeting their favorite personalities. Due to COVID-19, however, the fundraiser will start immediately and the broadcast will be held virtually from December 1 – 4. The need for donations is particularly great now due to the exponential growth of families struggling to make ends meet during the pandemic.
Donations are now being accepted via credit card or PayPal by visiting PastaThon.com. Checks, which should be made out to Caterina's Club, can be mailed to: 451 W. Lincoln Ave #251, Anaheim, CA 92805. In addition, PastaThon sponsor Smart & Final is accepting $10 donations at the registers of its stores in CA, AZ and NV that will be used to buy Barilla pasta to prepare 14 meals. Finally, Serato's restaurant, the Anaheim White House, has established a drive-thru where the public can drop off uncooked pasta and bottled sauces along with monetary donations daily from 8 a.m. – 3 p.m. (closed Thanksgiving Day). The restaurant is at 887n South Anaheim Street in Anaheim. Call (714) 772-1381.
Save for the "Jennifer Jones Lee Show," the line-up for KFI AM 640's virtual PastaThon, which will run simultaneously on the station's Facebook page and YouTube channel, includes:
12/1 5-6am – Jennifer Jones Lee (Instagram live only)
12/1 9-10am – Bill Handel
12/2 1-2pm – Gary & Shannon
12/3 5-6pm – John & Ken
12/4 6-8pm – Tim Conway Jr.
KFI AM 640 Executive Producer Michelle Kube says, "Because of Covid and our company guidelines, we cannot do a live, in-person event. We all love this event and having the community come together for the greater good, (but) we just can't do it in a way that ensures everyone's safety."
Adds Sir Bruno Serato, founder of Caterina's Club, "KFI AM 640's PastaThon is our most important fundraiser of the year and we are so grateful to everyone there for their support. We really hope that the public participates this year as the need is so great."
Caterina's Club typically serves 5,000 pasta dinners each night in 89 locations in Orange and LA counties, but the devastation exacted by the COVID pandemic has stepped up the demand significantly. The nonprofit also finds permanent housing for families in need and introduces at-risk youth to careers in hospitality.
For his humanitarian work, Serato has earned international publicity including profiles in People Magazine, on CBS, NBC and CNN as well as newspapers and magazines the world over. Among his many honors: CNN Hero, knighted by the Italian government, knighted by the House of Savoy, Ellis Island Medal of Honor, Papal blessing by Pope Francis, humanitarian award on the steps of the U.S. Capitol, and numerous proclamations, Man of the Year awards and other forms of recognition — all of which he accepts to generate public awareness of the needs of our most vulnerable population – our children. For more information, visit www.caterinasclub.org
Anaheim White House is located at 887 South Anaheim, Anaheim. Visit AnaheimWhiteHouse.com for more information.
*****
Release ID: 88985001