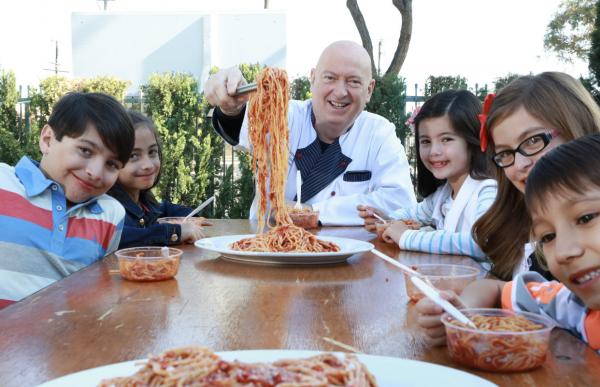 - December 17, 2021 /PressCable/ —
Those facing food scarcity throughout Southern California may breathe easier thanks to KFI AM 640's 12th Annual PastaThon that raised $1, 033,504 and 115,324 pounds of pasta and sauce for Caterina's Club, the nonprofit founded by Sir Bruno Serato that feeds hot meals to some 5,000 children each day and offers free food to families in need. Pushing the total over the $1 million threshold was a loyal fan of KFI's "Tim Conway Jr. Show," who donated $100,000.
The increase in overall donations was also due to KFI extending its on-air campaign from Nov 17 – Dec 5; expanding the number of food drop locations to include N10 Restaurant in Los Angeles, owned by soccer legend and ardent Caterina's Club supporter Alessandro Del Piero, as well as Serato's own Anaheim White House Italian Steakhouse; and Smart & Final accepting $10 donations at its stores in CA, AZ and NV that pays for 14 meals using Barilla pasta.
"We are simply blown away by KFI and its listeners, who, no doubt, are the most generous group of people around," says Serato, founder of the nonprofit that he named for his beloved mother. "Our goal is to expand our efforts so that no child goes to bed hungry and this year's PastaThon will definitely help us fulfill our mission of service. I thank everyone at KFI for their selflessness, dedication, loyalty and tireless devotion to making this year's fundraiser a record-breaker. They will never know the depths of my appreciation."
"KFI PastaThon is a full station effort and the biggest heroes are our listeners and partners," says Robin Bertolucci, Program Director for KFI-AM 640. "Every year, we reach new highs and that means more meals to feed more kids in Southern California. On behalf of the entire KFI team, we thank the community for the remarkable generosity."
Adds KFI AM 640 Executive Producer Michelle Kube, "From Bill Handel, Jennifer Jones Lee, Gary and Shannon, John and Ken, Tim Conway, Jr. and all of us here at KFI, we are happy that our efforts have resulted in generating record-breaking donations for Caterina's Club, a local nonprofit that helps those in need right here in our own backyard. There is no doubt that KFI listeners are the most generous, compassionate and caring souls on the planet. We thank them from the bottom of our hearts."
In addition to feeding the hungry, the nonprofit also finds permanent housing for families in need and introduces at-risk youth to careers in hospitality. For his work on behalf of Caterina's Club, Serato has earned international publicity including profiles in People Magazine and has appeared on countless TV news and talk shows including "The Drew Barrymore Show," "Access Hollywood," "The Doctors" "CBS Evening News" and "NBC Nightly News." Among his many honors: CNN Hero, knighted by both the Italian government and the House of Savoy, Ellis Island Medal of Honor, a papal blessing from Pope Francis, humanitarian award on the steps of the U.S. Capitol, and numerous proclamations, Man of the Year awards and other forms of recognition — all of which he accepts to generate public awareness of Caterina's Club. For more information, visit www.caterinasclub.org
*******
Release ID: 89057063