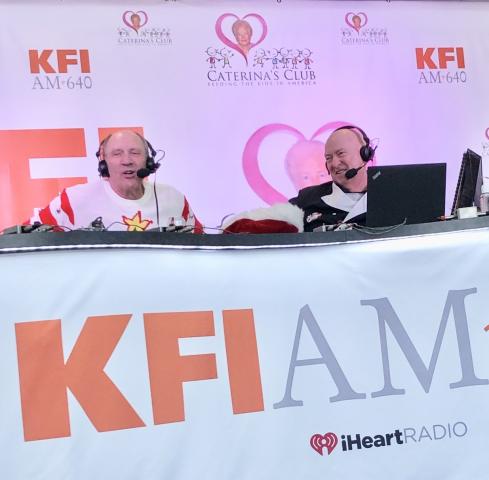 - November 17, 2021 /PressCable/ —
Details for the 11th annual KFI AM 640 PastaThon benefiting Caterina's Club have been announced. LA's #1 talk radio station is extending this year's on-air campaign from Nov 17 – Dec 5. In person donations of pasta, sauce and cash are being collected in person starting now- Dec 3 at several locations including the Anaheim White House, operated by the nonprofit's founder, Sir Bruno Serato, and N10 Restaurant in Los Angeles, owned by soccer legend and ardent Caterina's Club supporter, Alessandro Del Piero. (Check www.pastathon.com for additional locations.)
Starting Nov 17, PastaThon sponsor Smart & Final will start accepting $10 donations at the registers of its stores in CA, AZ and NV that will be used to buy Barilla pasta. Each donation pays for 14 meals. Donations also may be made via credit card or PayPal by visiting pastathon.com. Checks made payable to Caterina's Club can be mailed to 451 W. Lincoln Ave #251, Anaheim, CA 92805.
The following is KFI AM 640's virtual event line-up (check the website for online simulcast details):
Tuesday Dec 1 from 1 pm-2 pm Gary & Shannon
Wednesday Dec 2 from 5 pm – 6 pm John & Ken
Thursday Dec 3 from 9 am – 10 am Bill Handel
On Tuesday Nov 30, Tim Conway, Jr will broadcast his show live from the Anaheim White House from 6 pm – 10 pm. Fans are encouraged to attend, however, COVID protocols including wearing masks regardless of vaccination status while indoors, use of hand sanitizers and social distanced seating will be observed.
KFI AM 640 Executive Producer Michelle Kube says, "As we continue in our second decade supporting Caterina's Club, we look forward to having our listeners join us as we collect pasta, sauce and cash donations to help feed hungry children living right here in our own communities. No child should ever go to bed hungry and the KFI AM 640 PastaThon is the perfect opportunity for all of us to do our part to ease the suffering."
Adds Serato, "We are so grateful to KFI AM 640 for their continued support. I can speak on behalf of the children when I say how much we appreciate their generosity and that of their listeners who make this annual event so successful."
For his work on behalf of Caterina's Club, Serato has earned international publicity including profiles in People Magazine and has appeared on countless TV news and talk shows including "The Drew Barrymore Show," "Access Hollywood," "The Doctors" "CBS Evening News" and "NBC Nightly News." Among his many honors: CNN Hero, knighted by both the Italian government and the House of Savoy, Ellis Island Medal of Honor, a papal blessing from Pope Francis, humanitarian award on the steps of the U.S. Capitol, and numerous proclamations, Man of the Year awards and other forms of recognition — all of which he accepts to generate public awareness of Caterina's Club. For more information, visit www.caterinasclub.org
Anaheim White House is located at 887 South Anaheim Blvd., in Anaheim, Orange County. To make reservations or for more information, call (657) 201-3278 or visit www.caterinasclub.org
*******
Release ID: 89053422