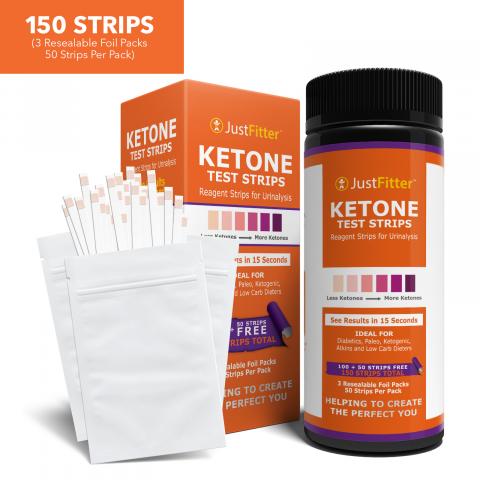 - August 29, 2018 /PressCable/ —
Just Fitter is pleased to reveal that all Amazon Prime members can now enjoy free shipping within two business days while purchasing the company's recently launched re-sealable ketone testing strips. Interestingly, this product is an improved version of similar product that has been designed based on user feedback. Unlike the previous product, the new bottles of the product contain one hundred and fifty testing strips in three re-sealable packs.
To find out more about Just Fitter Ketone Test Strips, please visit Just Fitter on amazon.com
The ketone testing strips from Just Fitter have already built a great reputation amongst the Amazon shoppers. Hundreds of impressed users have already recommended these testing strips for the accurate measurement of ketone in the urine. This testing is particularly essential for the monitoring of the ketonic state of the body, an indicator of the body's fat burning level. Many users of the product have also used these testing strips for managing type1 diabetes.
The presence of ketone in urine is a clear indication of the fact that the body is burning fat for fuel instead of carbohydrates. This state of the body is known as ketosis, and is extremely desirable for anyone looking to achieve a weight loss goal on a keto type of diet.
In spite of the groundbreaking success of the ketone testing strips from Just Fitter, the company received feedback from several users that could not use all their testing strips before the product expired. Once the seal is broken, these testing strips can retain their accuracy for a maximum period of ninety days. With one twenty five strips per pack, the users of the previous version of the product were not able to make the most of their purchase.
Just Fitter recently solved this problem by coming up an innovative packaging where the one hundred and fifty strips are contained in three re-sealable packs. Therefore, the users are only required to use fifty strips within ninety days. The re-sealable packs also protect the strips from different environmental factors and make it easier for the users to carry it while traveling.
"We are pleased to announce that all Amazon Prime members are not required to pay shipping charges while purchasing our new Ketone Test Strips pack of 150. Please visit our Amazon store and take home this brilliant product," said a senior spokesperson from Just Fitter.
To find out more about Just Fitter Ketone Test Strips, please visit Just Fitter on amazon.com
About Just Fitter: Founded in 2014, Just Fitter is dedicated to helping people achieve their best physical, mental, and spiritual health by encouraging them to embrace the benefits of a Keto diet lifestyle. Partnering with some of the best doctors, chemists, and nutrition scientists, the company has already helped thousands of people improve their lives in many ways including going Keto. Just Fitter also runs a popular Facebook page called createtheperfectyou, dedicated to helping people adopt the Keto lifestyle.
Release ID: 398189