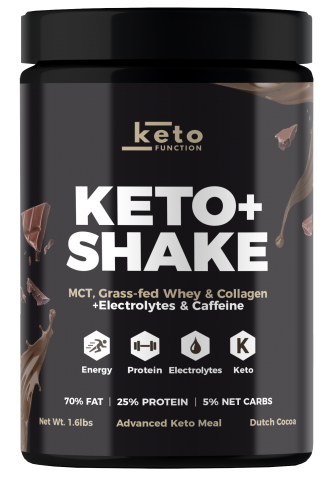 - October 17, 2019 /PressCable/ —
Keto Function has combined the best of all worlds by creating a convenient, nutritionally balanced, and absolutely delicious all-in-one keto shake that provides a wide range of benefits.
San Francisco, United States – Oct 02, 2019 – Over the last few years the keto diet has gained widespread popularity due to its effectiveness in helping people lose weight and regain their health. Although the concept behind the keto diet is relatively simple, limit your carb intake to a level that puts your body into ketosis, it can sometimes be a challenge to figure out what to eat.
The problem for most people following a keto diet is that they often have difficulty sticking to the diet because until recently there has been a lack of quick, convenient, and truly keto snack and drink options. Consumers were left making difficult decisions about what to eat when on-the-go. Most low-carb or low-sugar products available on the market were originally intended for diabetics, not for people on a keto diet. Furthermore, the vast majority of these products contain fillers and artificial ingredients that can do more damage than good. Ingredients like soluble corn fiber, sunflower oil, and artificial flavorings.
A KETO SHAKE WITH PERFECT MACROS:
Keto Function, a rapidly growing company with a focus on providing premium and all-natural keto supplements, recently introduced their highly anticipated Keto Shake Meal Replacement. This all-in-one keto protein shake was developed in response to customer requests and contains the perfect keto macros of 70% fat, 25% protein and 5% net carbs. Not only are the macros specifically designed for those on a keto diet but so are the ingredients.
The all-natural ingredients and absence of artificial fillers are what set this keto shake apart from other products. It contains a blend of grass-fed whey and collagen protein, mct oil, electrolytes, prebiotic acacia fiber, a small amount of organic caffeine, and real dutch cocoa.
To get yours now, visit: https://www.amazon.com/CHOCOLATE-KETO-SHAKE-MEAL-REPLACEMENT/dp/B07W45KBX7
SIMPLIFIES THE KETO DIET:
"We developed this delicious Dutch Cocoa Keto Shake in response to multiple requests from our customers as well as out of necessity," said Jordon Richard, founder of Keto Function, "I often found myself blending together multiple different products from my cupboard to create the optimal keto shake and figured it was about time we made something similar for our customers. So a couple of months ago we sent out a quick survey to our customers via Facebook and simply asked them what they would like in a shake if we were to make one. I was overwhelmed by the number of responses we received to that first survey and knew this was something we had to make available."
According to Jordon, this is one of the reasons that their Keto+ Shake contains a blend of both whey and collagen. Until now, the products available on the market contained either whey or collagen but not both protein sources. Given that each protein source provides different and unique health benefits it's a wonder no one has combined the two until now.
DELICIOUS AND NUTRITIOUS:
When it comes to healthy and keto-friendly nutrition, their Keto+ Shake is second-to-none. It contains 15g of fat from pure MCT oil powder, 12g of protein from whey and collagen, electrolytes and trace minerals like sodium, potassium, and magnesium, 20mg of organic caffeine, and prebiotic acacia fiber to keep you full and satisfied.
But the real question most consumers will want to know is, "Does it taste good?" Well, I have good news for you. The shake is made with real dutch cocoa, which is naturally low in sugar and carbohydrates, and they naturally sweeten it with a blend of monk fruit and stevia so you aren't left with any weird "artificial" sweetener taste. It's just a silky smooth and chocolatey shake that, according to Jordon, goes well in water, nut milk, and even coffee.
"We spent a lot of time perfecting the flavor of the shake. We wanted to ensure that people didn't have to sacrifice flavor for nutrition. As well, the ingredients had to be all-natural and good for you." said Richard.
Keto Function's breakthrough Keto Shake has just been released on Amazon.com. To celebrate, for a limited time Keto Function is offering a special discounted price to those who purchase direct on Amazon.
To get yours now, visit: https://www.amazon.com/CHOCOLATE-KETO-SHAKE-MEAL-REPLACEMENT/dp/B07W45KBX7
You can also find the new shake available on their website at:
https://ketofunction.com/products/keto-shake-low-carb-high-fat-keto-meal-replacement-dutch-cocoa
Release ID: 88924915