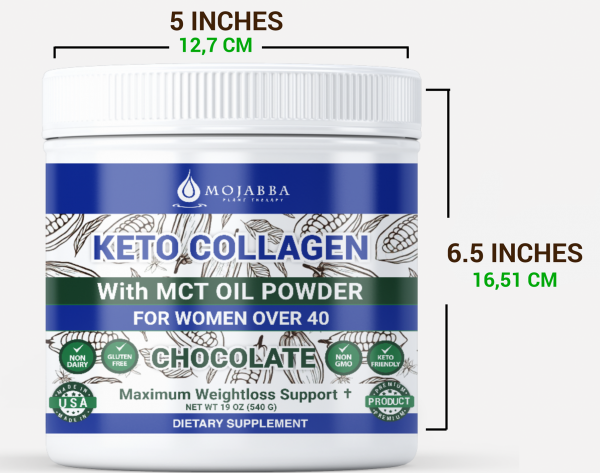 - August 3, 2021 /PressCable/ —
Mojabba Plant Therapy has launched a Keto Collagen supplement designed to support women over forty. This Keto Collagen product contains MCT Oil powder and provides women on a Keto diet with thirty full servings.
For more information see https://ketocollagen.mojabbaplanttherapy.com/
The launch of "Keto Collagen with MCT Oil Powder for Women Over 40" was prompted as more and more customers are interested in high-quality bovine collagen with MCT for Keto fuel. This supplement is designed to help women over forty achieve their weight goals.
MoJabba's Keto Collagen can be blended in coffee, added to a smoothie, or simply mixed with water. Its balanced chocolate flavor and anti-caking properties allow it to be easily mixed, without clumps or waste.
The product is being offered to women over forty as part of a complete Keto System. The system includes "The Keto Cookbook for the Women Over 40 System" which contains "60 Quick And Easy To Prepare Keto Recipes", "The Exact Amounts Needed To Use For The Best Results", "Diversified Recipes For Each Of The Meals Of The Day", and "Great Recipes for Delicious And Healthy Desserts."
Other items in the system include a 14 and 30 Day Meal Plan. These template-designed meal plans make it easy for women to use over and over again. They can substitute items in the cookbook and use the template as an aid to stay faithful to their Keto lifestyle.
The Keto system also includes a mind map to facilitate the transition to a sustainable Keto diet. This mind mapping tool can help Keto practitioners ensure that the Keto diet becomes natural to them.
Mojabba Plant Therapy has put most of the data in the Keto system on a series of accessible videos. Additionally, they are providing information on an audio platform to accommodate those who learn best by listening.
Along with the launch of the Keto Collagen, MoJabba Plant Therapy is offering first-time customers a lifetime 20% discount on all its products including Turmeric for Women Over 40, Probiotics for Women Over 40, Immune Support, Multivitamins, Fish Oil, Blood Sugar Support, Digestive Enzymes, and more.
Interested parties can find more information by visiting https://mojabbaplanttherapy.com/
Release ID: 89039895