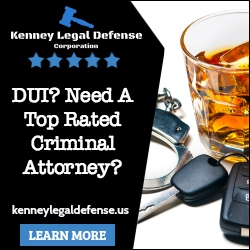 - November 15, 2017 /PressCable/ —
DUI Attorney Newport Beach, CA – Kenney Legal Defense, a Newport Beach-based full-service legal firm with over 20-years of litigation and jury trial experience in local criminal cases, offers community members more than just expert legal support; they are the go-to firm for DUI assistance in the area.
Since DUIs are no laughing matter today, Kenney Legal Defense's DUI attorney, Karen Kenney, is quickly there to help.
"The DUI process moves fast, which means individuals arrested for DUIs do not have time to ponder their options. They need to call a criminal lawyer as quickly as possible," said Kenney. "It's so important to stress that needing DUI help does not make anyone a bad person. Everyone deserves help, and we're here to provide it when people need it the most."
In the state of California, most DUI offenses involve alcohol or drugs, considered simple DUIs. However, there are some exceptions that make the DUI a felony charge, including causing death of injury to another individual while driving under the influence, having 3 or more DUI convictions within 10-years, or having a prior felony DUI conviction on one's record.
Since the prosecution has the tendency to seek the strongest possible penalties for situations involving DUIs, those charged will be facing felony charges unless a criminal lawyer steps in to assist.
"The law is nothing anyone wants to tamper with today, which is why our expert team is trained to oversee the situation and present the best possible case for avoiding felony convictions," said Kenney.
Kenney Legal Defense is able to support clients with cases involving misdemeanors, felonies and federal offenses. They have experience with white-collar crimes, assault and battery and DUI's.
For more information about cases involving misdemeanors, felonies and federal offenses, please visit: Orange County criminal attorney Karren Kenney at www.kenneylegaldefense.us.
Release ID: 264602