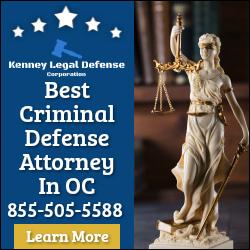 - March 13, 2019 /PressCable/ —
Kenney Legal Defense, Karren Kenney, Orange County, CA – For over 20 years, the people of Orange County have trusted Karren Kenney with Kenney Legal Defense to represent them in cases involving federal offenses, white collar crimes, felonies, misdemeanors, assault and battery and DUI's. Understanding that law enforcement is not your friend, when charged with a crime in Orange County, it is imperative to have a lawyer who knows the legal system and the importance of developing a comprehensive and effective strategy for defense. With 5 stars reviews across the board and a stellar track record in the courtroom, Karren Kenney with Kenney Legal Defense is the first choice for Orange County clients.
Karren Kenney with Kenney Legal Defense passionately defends and fights for her clients' rights and freedom, which is best exemplified by her outstanding criminal defense performance record in the courtroom. Karren practices state and federal criminal defense exclusively all over Southern California and diligently handles each of her cases with persistence, passion, and principles. She is an experienced and aggressive trial attorney and believes in thorough case preparation in order to provide the best possible defense for her clients.
A recent example of Karren Kenny's successful criminal defense: The client was charged with possession of drugs for personal use. Ms. Kenney filed a motion to suppress evidence which was heard concurrently with the preliminary hearing. The officer lied on the stand about evidence he claimed he booked. Ultimately, the evidence was suppressed and the case was DISMISSED.
Bottom line, there is no substitute for having a pro in the fight who knows how to use years of expertise to gain legal leverage. If you're facing federal or criminal charges in Orange County, Karren Kenney with Kenney Legal Defense is your best chance at avoiding imprisonment.
For more information, please visit: https://www.kenneylegaldefense.us/
Release ID: 491588