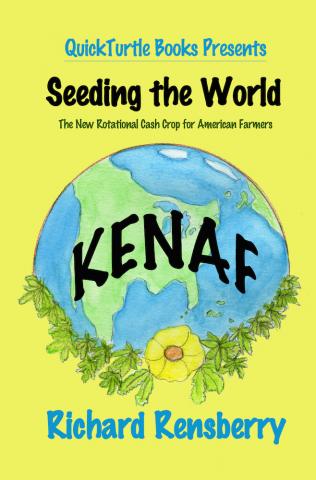 - May 23, 2019 /PressCable/ —
QuickTurtle Books based out of Fairview, Michigan has announced the release of author Richard Rensberry's new book, Seeding the World, The New Rotational Cash Crop for American Farmers. The book provides information about opportunities for farmers in the USA to grow the hibiscus plant, Kenaf, for its highly in-demand and versatile seed.
American author Richard Rensberry wrote Seeding the World after he interviewed Robert Lawrason of Kenaf Partners USA. Robert Lawrason is quickly becoming the go-to Kenaf expert United States. After speaking with him, Richard Rensberry saw an opportunity to write about this new rotational cash crop and educate farmers on the benefits of growing it.
More information on kenaf and opportunities in the industry can be found here: https://Kenafpartnersusa.com
The book was written in partnership with Kenaf Partners USA to give farmers a ground floor opportunity to learn about, plant, grow and harvest the plant for kenaf seeds. The book was also created in partnership with QuickTurtle Books and Small Business Marketing Magic.
Products derived from Kenaf have been used for bags, cordage and sails for boats. The main uses of Kenaf fibre now are rope, twine, course cloth and paper. There are more than 2,500 other valuable uses for Kenaf on the horizon.
Richard Rensberry has written many other books tackling important subjects such as drug awareness, the environment, and philosophy. He has written well-loved titles about lighthouses, big ships, gardening, maple syrup and Sasquatch.
He started writing poetry at age twelve and created his first chapbook at the age of fourteen. In 2013, he shifted his interest to children books that tackle and bring to light important issues. His latest work, Seeding the World, is a sidestep from his usual published work, but he is very proud of the partnership and believes it can truly help farmers and America's agriculture industry as a whole.
Richard's books, including Seeding the World, can be found on Amazon and can be found here: https://richardrensberry.com
Release ID: 516035