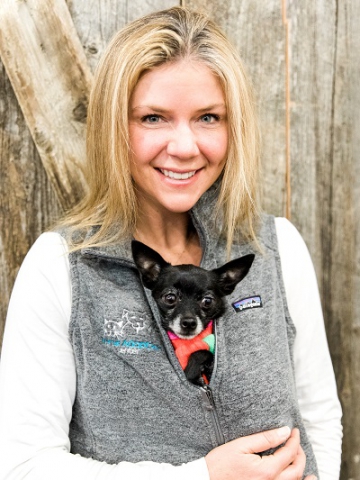 - December 24, 2017 /NewsNetwork/ —
Love is in most people's heart during the holiday season, not only in giving of physical gifts but also in the giving of gifts from the heart. Doing something from the heart has never been approached quite this way or had so much potential impact on people and animals alike. If you loves animals and are looking for the perfect way to blend that love with acts of kindness this season, this photo-shoot showcasing the Animal Adoption Center in Jackson Hole WY is the perfect solution.
More information about the Animal Adoption Center can be found here: animaladoptioncenter.org
The holiday season is a time of family gatherings and in most households pets are included as members of the family. However, what about all those animals in adoption centers that have no permanent homes.Wouldn't it bring more joy to us all if one could encompass all creatures in the magical love of the holiday season?
Here are some cold hard facts from NCPPSP: "The National Council on Pet Population Study and Policy reports that, less than 2% of cats and only 15 – 20% of dogs are returned to their rightful owners when lost."
As well, roughly 7.6 million companion animals enter animal shelters across the US every year. Of those, about 3.9 million are canines and 3.4 million are felines.
The shocking truth is that only a small percentage of those will find a forever home!
How many people really know about the caring and devotion of animal shelter workers in credible facilities? And, how many people showcase these precious creatures waiting to be taken to a forever home in beautiful photos with their amazing caretakers? Well, today is the day to see love and photos blended in a way that help in making that last minute present a cuddly best friend.
Here's where the art of blending photography and loving animals comes in. While doing a photo-shoot for a wedding and one at an animal shelter may seem worlds apart, they really aren't. Both occasions are filled with love, devotion and the hope of bright tomorrows. Featured in "Rocky Mountain Bride", Karissa Akin leads the photography team for Apres Events. Whether documenting a couple's treasured wedding or the soft eyes of an animal in need, she will pull together amazing photos and capture the love.
Karissa Akin of Apres Events, who donated her talents and time for these beautiful photos, said, "What an incredible experience to work with the Animal Adoption Center. Carrie and her team are such generous and caring people. They know every animal's story and how to interact with each like they were their own. What a wonderful testament the AAC is to this community and the value they place on finding every animal a loving home. I hope several of the four-legged friends we met today end up under a Christmas tree at their forever home this Holiday season!"
In today's crazy, hectic, look out for number one world, it's important to not forget about the good that can be done so easily. This holiday season is about extending a helping hand, and what could be better than the amazing feeling that comes with that act? The fact that one is helping a creature that asks nothing in return but a warm smile, pat on the head, a little kibble, and a home to call their own.
The interview with Carrie Boynton director of the shelter revealed this important way they want to spread the love.
What is your goal for The AAC for 2018?
"We look forward to helping animals in need locally, regionally and nationally. We also plan to host multiple spay/neuter clinics on the Wind River Indian Reservation and in Star Valley and provide low cost spay/neuter vouchers in communities statewide. We will continue our in-house training/training voucher/microchipping programs for 2018."
In Karissa's beautiful donated documentation of just a few of these best friends waiting for a home, she highlighted some of the standout characters.
Meet Pepper-Chihuahua (female – pictured with Carrie)
"She was found in Idaho Falls as a stray, someone had left her behind. Her entire mouth was rotting when they found her so she had almost all of her teeth removed except for three of them. She is 6 years old and wears a sweet sweater with class. She loves to be cuddled and loves to go on walks when the snow is not too deep."
Meet Luke Skywhisker (pictured here)
"He was found as a stray. He's a young rambunctious Jedi with piercing yellow eyes and a desire to defeat the evil forces."
Meet Dottie-Staffordshire Terrier Mix (female – pictured here)
"Lots of energy and wiggles can't keep this girl away from you. She is four years old and a pit mix. She loves to play fetch and cuddle on the couch. Would prefer to be the only dog in the home but she does have a lot of doggy friends out and about."
These are but a few of the Christmas angels so unselfishly photographed and loved by Karissa Akin of Apres Events that are waiting to give love back.
There are many more awaiting unconditional, blended love this holiday season.
The final word from Carrie Boynton director of the shelter is this:
"Spread the word on the importance of spay/neuter! We are always looking for new fosters! The Animal Adoption Center relies on the generosity of foster parents to provide loving and temporary homes for the dogs in our program. We do not have funding through the government and rely on donations to operate. In 2017 we funded hip surgery for a dog who had been hit by a car and the removal of a very infected eye. Both are now in loving homes!"
Open your heart and blend your love this season. It is so easily done if you contact your local shelter today. Just think of the Christmas present you could give to a shelter worker, an amazing animal or yourself.
Release ID: 281413