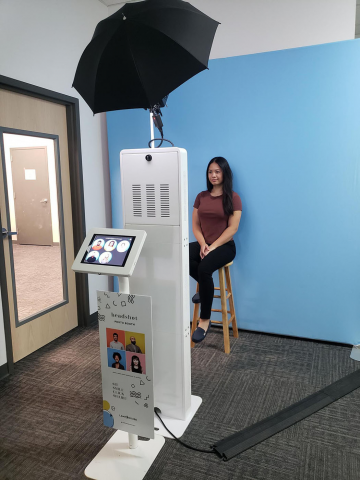 Wichita,United States - August 10, 2022 /PressCable/ —
It started as a simple idea. As time went on, it became a major employee empowerment event.
The Net Pay Advance team had decided it was time for updated team photos as part of a plan to improve its company website. Ariel Westphal, Director of Marketing, shares the reason behind the event: "We've got a great group! Various backgrounds, skillsets, and experience. They're all stars in our book. We want to showcase that."
Westphal worked with a local photography company, Lamphouse to schedule in-office headshot photos for the day. It was only mandatory for directors and managers to get a headshot. However, the key piece was that it was optional for other teammates.
Westphal and her team assumed not many others in the office would take up the offer, but they encouraged everyone to participate. The turnout was much higher than they had anticipated!
Lamphouse set up at 10 AM sharp that day in a back corner of the office. It was in a part of the building where employees could see their teammates walk back there, but where the model didn't have all eyes on them.
There's value in professional photos. Impressions are made within 7 seconds on average. Having high-quality employee photos can help ensure that first impression is a good one.
Net Pay Advance is an online company. They've helped over hundreds of thousands of consumers. Yet, their consumers have never met their team. It's hard for customers to have the same personable experience as they would with an in-person team in a brick-and-mortar store. "There are real people behind our online system," Westphal laughs. "Customers love our online speed and convenience, but it's our personable team that really takes center stage. We want to be able to show 'us.'"
Professional employee headshots may be a boost for the website, but more importantly, they're a morale boost for the team! Studies show that when you look good, you feel good. "Wow. I look like a professional here! I've taken good selfies. But it's not the same… there's something about this sharp look that reminds me I am capable," Kelsey Jones, Customer Service Supervisor, shares.
There's a duality to taking photos. When people look good, they feel confident. However, taking pictures can be a nerve-wracking experience. To combat that, Westphal made the experience as comfortable as possible. "Not everyone likes taking photos… The things we're most insecure about can feel reflected tenfold in the images we take. To get more teammates to participate, I had to set them up for success," she says. Here's how Westphal set up the four-hour event to optimize turnout and participation.
Westphal started talking about the event a month ahead of time. She wanted to give the team plenty of notice. She shared what the background color would be and even provided helpful tips on how to dress, pose, and feel confident.
The photos were flexible. There was no limit on the number of photos a teammate could take. Employees were encouraged to bring multiple outfits. "Nothing is worse than regretting the outfit you wore on picture day," Westphal explains. "School pictures really did a number on all of us. You deserve to have as many retakes as you want to feel good. Plus, multiple outfits means multiple looks to find the best representation of you," she adds.
Several employees took up the offer to bring multiple outfits. One employee even brought in a bag with six changes of clothes!
Westphal made sure to hire a professional photographer. That includes a high-quality background, good camera, and professional to help direct. Taking photos can cause anxiety. Having an expert brings comfort. "Sometimes you need a person directing you, or giving you photo advice… I've been with the team for over six years, and beyond the candid office photos, we've never done something like this… This was a surprisingly pleasant experience," Jason Largent, Director of Operations, shares.
Westphal was conscious of the fears that social pressures can bring. She set up a flexible schedule to avoid a line. It ensured teammates didn't take much time out of their day. More importantly, it made sure there wasn't added pressure from having your peers stare at you while posing. That's the fastest way to feel insecure. At the same time though, the schedule was flexible, so that anyone with a sudden burst of confidence could still participate.
The team reacted well to the professional photos. One employee even offered to be a "hype man" for their peers.
The flexibility throughout the day made the experience more fun.
Westphal recounts one employee finding the confidence to step into the booth. "They were so nervous. A couple of their friends encouraged them to join in group photos. If you look through their set of group photos, you can see right when they found their confidence. That was all it took to get them to come back a second time for their professional headshot. If you're setting up an event like this, I encourage you to give your team the flexibility they need to feel comfortable," she says.
By the end of the day, several employees admitted they were surprised to find they enjoyed taking photos in this setting. They agreed it was more comfortable than other experiences they've had in the past.
All in all, the Net Pay Advance team agrees that a headshots photo event is empowering. Every small business should host an event like this for their team at least once.
Contact Info:
Name: Ariel Burress
Email: Send Email
Organization: Net Pay Advance, Inc.
Address: 6820 W Central Avenue, Wichita, Kansas 67212, United States
Website: https://www.netpayadvance.com

Release ID: 89079877