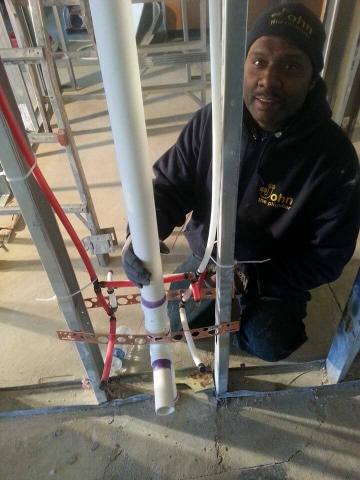 - February 27, 2020 /PressCable/ —
John the Plumber, a Kansas City, Missouri-based plumbing services company boasting more than 30 years of experience in the business, recently expanded its offerings to encompass a new water line specialty, the goal of which, according to JTP reps, is to continue protecting the health and wellbeing of the local community via the installation of appropriate water supply and sewage draining.
"A problem with the main water line can happen to anyone, even those who take care of their homes and plumbing systems," says John W. Hunt, owner of JTP. "This is normally due to the circumstances that lead to a potential problem which most of us have no control over, and may include the age of plumbing pipes, the material the pipes are constructed of – such as clay or galvanized steel, both of which deteriorate significantly over time – as well as root invasion and household discharge buildup.
"To that end, our mission continues to focus on protecting the health of our neighbors by installing appropriate water supply and sewage draining."
For more information visit https://johntheplumberkansascity.com/plumbing-repair-services/water-line-sewer-line-repairs/
Because residential water service line repair and replacement can represent a costly surprise for an unsuspecting homeowner or commercial building manager, JTP covers everything a client needs to know regarding water pipe installation, repair procedures, necessary authorizations and safety precautions that must be taken during each and every residential and commercial water line replacement.
According to JTP representatives, a leaky water main from the street can cause a plethora of water problems, starting, on the residential side, with leaking pipes or copper tubing ruining hardwood flooring, wall surfaces and furnishings; meanwhile, water leaking outdoors from a high-pressure water service pipe could remove dirt and create sinkholes from underground erosion. Municipal water leak problems can cause permanent damage and can also rob areas of enormous quantities of potable water required for drinking, bathing and cleaning – as well as other water supply requirements from a service pipe leaking beneath the ground surface.
"Leaking water lines are one of those things that homeowners simply don't want to have to deal with, and we don't blame them," adds Hunt. "When an existing one-inch copper water line is starting to corrode and fail, then it is most likely creating a major headache for a homeowner and his/her family; when the project demands that a new copper or PEX-type water line be installed, it is imperative that it's done in a professional manner by licensed plumbers or a local water service repair contractor."
Beyond new lines, JTP's areas of particular specialization include all aspects of water heater repair and installation, gas pressure testing, sewer line repair, drain cleaning, rooter service, general plumbing repair, installation of new toilets, unclogging bathroom drains, gas lines, repairing leaking pipes and plumbing work for kitchen and bathroom remodel projects.
JTP is located at 5963 Paseo Boulevard in KC and can be reached by calling (816) 708-2020. For more information visit give John the Plumber a call or visit their above cited website.
Release ID: 88948064