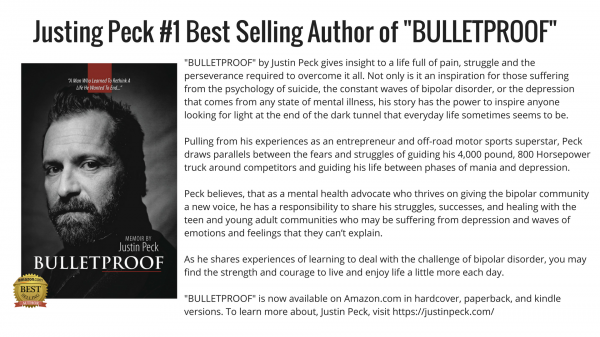 - February 9, 2017 /PressCable/ —
Off-Road Racer, Entrepreneur, Best Selling Author, and Mental Health Advocate Justin Peck has been selected as a featured guest speaker at the Allure Dinner in honor of the 2nd annual City Summit and Gala event.
Peck is expected to share highlights from his recent bestselling memoir, "BULLETPROOF" and immediately following Pecks address, celebrity icon Forbes Riley will host an engaging Q&A session.
Entrepreneur Media, in association with Allure Events and Daneily Design Group, presents the 2017 City Summit & Gala featuring keynote speaker John Travolta and a special engagement with Halle Berry, moderated by Greg S Reid.
This star-studded City Community event takes place the weekend of the 59th Annual Grammy Awards at the USC Tower – South Park Center in downtown Los Angeles and the black tie Gala event at the Walt Disney Concert Hall.
Guests will enjoy an evening of entertainment while experiencing the opportunity to learn, network, and be inspired by rags-to-riches billionaires, celebrity actors/musicians, business conference leaders, keynote speakers, world-class business consultants, wealth management experts, and humanitarian activists.
As expected, featured speakers and contributors from Entrepreneur, Wall Street Journal, Virgin Galactic, NASA, Google, Priceline, Monster Inc, USA Today, Inc.com & others will be in attendance.
This year's events look to support the following charitable organizations: International Arts & Philanthropy Foundation, Breed Life, and Passion 4 K.I.D.S.
For VIP ticket information, visit citygala.org/admission access code: liviacaudell
$1,500 General Admission, $10,000 VIP Admission
About CityGala.org
City Summit & Gala events are produced with a vision to advance community through promoting humanitarian events. The theme and purpose of the events are to "give forward" by creating awareness for charitable organizations that align with the values of the City Summit & Gala's vision for a brighter future.
City Summit looks to assist non-profit startup organizations by bringing influential leaders and humanitarians to its events to speak, host, and promote causes related to philanthropic endeavors.
For information about City Summit & Gala, corporate sponsorship opportunities, and events, visit citygala.org or contact Livia Caudell 786.318.8814.
About Justin Peck
BULLETPROOF Bestselling author Justin Peck is the founder of Gear 49, a motorsports nutrition company. Peck has been part of the sports nutrition industry for almost 15 years and has extensive knowledge in diet and nutrition. Peck is also the owner and driver at Racepro Technologies, an off-road race team that competes in the Lucas Oil Off-Road Racing Series and the Best In The Desert Racing Series. His passion for motorsports and sports nutrition is now brought together with Gear 49—MotorSports Nutrition.
For information about Justin Peck, corporate sponsorship opportunities, speaking opportunities and events, visit justinpeck.com
Release ID: 168514