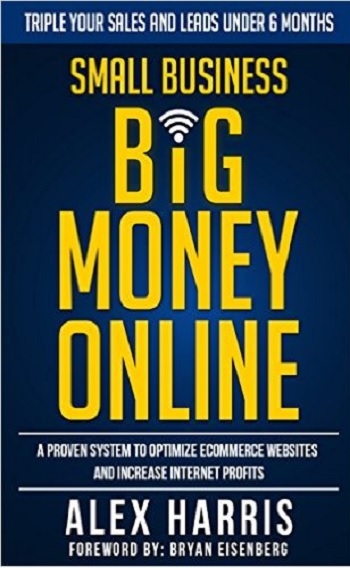 - July 7, 2015 /PressCable/ —
Hollywood, Florida: Best Selling author Alex Harris just released a book, "Small Business Big Money Online" and it hit the number #1 on Amazon in 2 days. This book is about small business ecommerce, getting more traffic to a website and conversion. It includes a five-step Marketing Optimization System to scale and grow a businesses bottom line.
Small Business Big Money Online will give direct, actionable advice and techniques. Learn to gather intelligence through qualitative insight and quantitative data, and then execute successful split testing to increase sales and leads and how to apply them in an ecommerce small business and website conversion.
"You can learn a lot from Alex Harris. Stated Jeffrey Eisenberg, author of Buyer Legends The Executive Storyteller's Guide. He is not one of the many Johnny-come-lately charlatans so popular in the conversion rate optimization market. He is not simply spouting opinions or regurgitating questionable best practices. Alex knows what works and what doesn't from real world experience. He is a proven veteran conversion rate optimization warrior with a decade of big wins under his belt. We've recommended him more times than we can count, and we've successfully included him on our projects since 2004.You cannot go wrong when learning from or working with Alex."
Alex Harris is a best selling author, award winning web designer, and founder of AlexDesigns.com. Alex is the host of the top ranked podcast, MarketingOptimization.tv. PPC Hero named him the "#4 Top Influential Conversion Rate Optimization Expert of 2014?,and his latest book, Boost Ecommerce Sales & Make More Money, became an Amazon #1 Best Seller.
Since 2000, he has created over one hundred e-commerce stores, thousands of different landing pages and over 7,000 different A/B tests. With 15 years of experience, Alex is passionate about helping small businesses grow. While many web designers only focus on great-looking websites, Alex focuses on helping websites increase their online sales and generate more leads.
"Alex is one of the rare, true conversion-oriented designers. Every small business owner should read this and follow everything it says. Don't wait. Start now." stated Chris Goward, Founder of WiderFunnel
"Small Business Big Money Online" is available in Amazon, Google Play and Ibooks.
Release ID: 86116