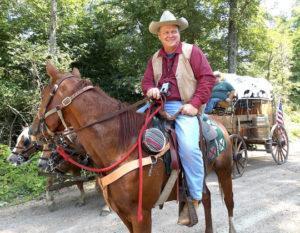 - November 25, 2019 /PressCable/ —
Paragould, AR, November 25, 2019: John T. Wayne today announced the launch of a new, redesigned website, https://www.JohnTWayne.com. Key features of the site include a cleaner and more attractive design, with a more engaging user experience and enhanced search and navigation. It includes the capability to connect better with John T. Wayne's fan bases and readers.
"I am excited to be able to offer an updated information solution to our fans, ensuring their easy connection and access all the novels and products that we offer my readers," said John. "As an author of historically accurate western novels, I wanted to offer as many paths to our fans as possible. The capability to connect directly will enable me to better understand my readers preferences and, most importantly, further extend the reach of all the offered novels and product."
The site's refreshed and simplified look, combined with enhanced content, improved search functionality, and optimization for mobile devices allows readers to better interact with John T. Wayne online. Selected areas throughout the website provide the opportunity to highlight the latest publishing schedule and include links to watch videos, read informational posts, listen to audio, and sign up for exclusive book downloads and news, as well as offering a secured site to easily order any apparel that is provided.
"My mission as a western fiction author is to connect with my readers and keep in touch with what they really respond to," said John T. Wayne. "The elegant, consumer-centric design of the website provides an innovative platform for my readers that will allow easy navigation to find everything in western fiction and products that they are after," said John
The new secure website, www.JohnTWayne.com allows for more information, regarding upcoming events, book signings, new novel releases and products with updates regarding special offerings.
About John T. Wayne
John T. Wayne the American Civil War and Historical Western author is the grandson of John Wayne (the actor). Growing up attending schools all over the state of Missouri, John learned the true history of the US Civil War. John is a chip off the old block, believing in God, individual responsibility and the idea of a free America. Following in true Reagan fashion, "A True American".
John began writing his stories in 1985 while attending the University of Oregon. Leaving Oregon after daughter Kimberly passed and returning home to Missouri. After 30 years of marriage together with Donna, there are incredible stories of traveling together to share.
John is on the road a lot with speaking engagements and book signings. Traveling about 50,000 miles a year and making 50 to 75 western festivals and book signings every year.
About "The Gaslight Boys Series"
John has now published seven western novels telling the story of "The Gaslight Boys." When the Civil War started there were only two orphanages' in St. Louis with a growing number of children to care for, the Mullanphy Orphanage and the St. Louis Protestant Orphanage. This the historically accurate tragic stories of over 100,000 children losing everything, including siblings and parents to become the original "Cowboys".
The civil war and western novels in "The Gaslight Boys" series includes the following titles: Ol Slantface, Blood Once Spilled, Captain Grimes, Peace In The Valley, Catfish John, Showdown At Scatter Creek, The Treasure Del Diablo.
In John's words, "These are the stories of the young men and women who grew up to become great in their own right, men and women of the great society. Some of them became great, some became outlaws, and some died short of the chance."
More information is available online at https://www.johntwayne.com/ or by email direct for
john@johntwayne.com.
Release ID: 88935606