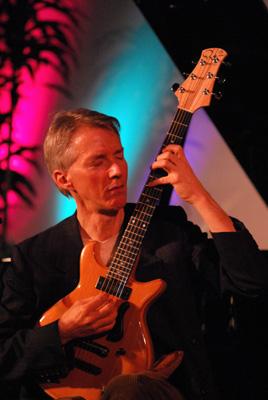 - June 9, 2020 /PressCable/ —
Famed jazz guitar virtuoso John Stowell announces the launch of his first-ever Skype clinic. By offering the online classes, Stowell aims to help aspiring jazz guitarists sharpen their musical skills despite the ongoing pandemic.
More information is available at: ttp://www.johnstowell.com/instruction.html
Stowell's early studies with jazz musicians John Mehegan and Linc Chamberlain influenced his unique chordal vocabulary, which eschews the cliche sounds used by many contemporary players.
His live performances, especially his improvisations, have drawn widespread acclaim from jazz luminaries and critics alike. Five-time Grammy nominee Lalo Schifrin has commended the guitarist's taste and sensitivity, proclaiming him a true jazz musician. His album with David Friesen, Through the Listening Glass (1978), was hailed by the Los Angeles Examiner as one of the 10 best jazz recordings of that decade.
Stowell has also taught internationally since the 1970s, and is noted for his insightful, intuitive, and practical teaching style. He has been artist-in-residence at prestigious schools in the United States, Canada, Germany, Argentina, and Indonesia.
With the newly launched online teaching sessions, Stowell aims to share his unique perspective on jazz harmony so that students can develop their own distinct sound.
The Skype lessons run from 30 to 90 minutes, and come with readings such as single-line ideas and chordmelodies. Stowell begins the lesson by playing a piece, before explaining the techniques that went into it. The class is recommended for students who have a working understanding of jazz guitar harmonies, but wish to further develop their skills and musical tastes.
Stowell says: "The purpose of my clinics is to provide insights into both the technical and creative processes that go into playing jazz guitar. By taking this approach, students don't just become proficient at performing, they also learn the building blocks for developing their own sound. And with these online classes, I look forward to being able to teach more people, wherever they are in the world."
John Stowell has over five decades of experience in performing and teaching jazz guitar. More of his music can be seen at: https://www.youtube.com/channel/UC7HQ1Oa-yVAHzktqmJNK0Sw
Release ID: 88961592