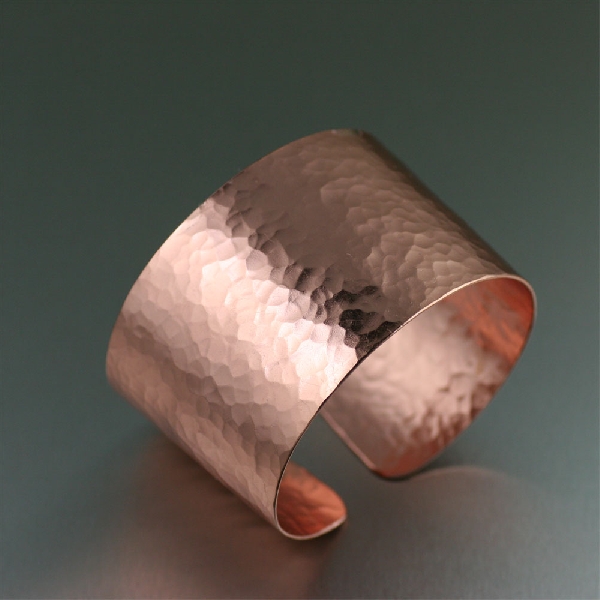 - October 3, 2014 /PressCable/ —
Artist and jewelry maker John S. Brana has announced a special collection of handmade copper jewelry specifically for offering 7th wedding anniversary gift ideas to customers.
The tradition of celebrating wedding anniversaries can be traced back to the Holy Roman Empire, when 25th and 50th wedding anniversaries were celebrated by a husband crowning his wife with a silver or gold tiara or crown. Over the years, other metals and some gemstones became associated with other landmark anniversaries. By the 1930s, wood was given for 5-year anniversaries, tin for 10-year anniversaries, china for 20 years, silver for 25 years, rubies for 40 years, gold for 50 years and diamonds for 60 years. In 1937, the American National Retail Jeweler Association published an official list of traditional wedding gifts for every year from one to 90.
Modern etiquette does allow for freedom to purchase any item of a person's choosing for an anniversary; however, many people love the traditional symbolism of selecting gifts from the traditional listing first published in 1937. According to the list, the traditional 7th wedding anniversary gift is copper. Today, shoppers can choose many different types of options for a 7th anniversary. Copper cookware and copper decorative items are among some of the most popular options. Those who want to purchase something more personal for a woman for her 7th anniversary may choose copper jewelry.
While gold and silver remain the most popular precious metals used in jewelry design, copper jewelry has been steadily gaining in popularity for many years. Handmade copper jewelry in particular has become a trendy gift item for all types of occasions. Copper jewelry is among the most popular 7th anniversary gift ideas because of how fashionable copper has grown to be in the world of jewelry design.
John S. Brana has long been inspired by the beauty of copper jewelry. On his site, he showcases his many handmade copper jewelry designs and offers them for sale to the public. Due to copper's popularity as a 7th wedding anniversary gift, Brana often receives questions from customers concerning which of his copper cuffs, copper earrings and copper bracelets are the most ideal to present for a 7th anniversary. To provide better service to customers, Brana has put together a collection of his best selling copper jewelry specifically to serve as 7th anniversary gift ideas.
In the 7th anniversary handmade copper jewelry collection, shoppers will find an array of designs. Many of the pieces show off Brana's penchant for experimenting with unique textures and all of the pieces in the 7th anniversary gifts copper jewelry collection are 100 percent handmade and are coated with a protective finish to prevent tarnishing. The entire collection of 7th wedding anniversary gift ideas is now available for browsing on JohnSBrana.com.
Release ID: 64982