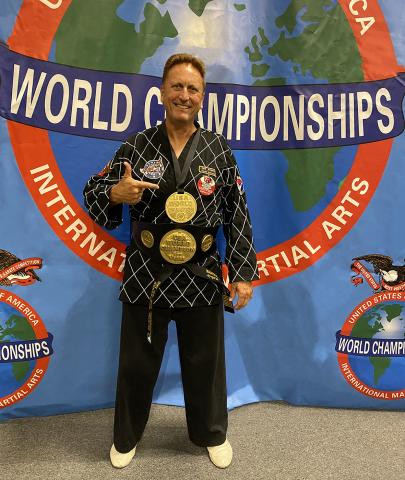 - February 24, 2022 /NewsNetwork/ —
The school's martial arts classes and John Gill's new report emphasize the positive effects of self-defense on cognition and its benefits for physical and mental health.
More details are available at https://usaschoolofselfdefense.com
According to a systematic review in the Journal of Sports Sciences, a majority of studies report that the practice of martial arts has a positive effect on cardiovascular fitness, maintenance of balance, cognitive function, and metabolic status. John Gill's classes not only allow clients to learn from a world self-defense champion but also to enjoy these benefits of self-defense.
People are becoming more aware of the importance of being prepared for emergencies, such as natural disasters, civil unrest, and crime. Learning self-defense contributes to this preparedness and offers benefits that go beyond increasing a person's physical strength.
According to Master Gill, learning self-defense increases mental strength and endurance while providing an effective workout. It improves muscle tone while helping students gain muscle mass without sacrificing mobility.
Master Gill and the team at the USA School of Self Defense create an environment conducive to learning martial arts. He practices a philosophy of nonviolence, respect for others, politeness, manners, and doing the right thing.
With the latest release, John Gill and the USA School of Self Defense hope to educate clients on the benefits of learning self-defense while also teaching them new skills and methods to ensure their safety if they face a dangerous situation. The school offers group sessions and private lessons in Ashland, Jackson County, Rogue Valley, and Southern Oregon.
About USA School Of Self Defense
The USA School Of Self Defense is the brainchild of John Gill, a world self-defense champion and winner of 36 martial arts titles, including 21 World Championships. He is a 7th Dan Black Belt Master and instructor in Hapkido and Taekwondo.
John Gill has been featured on radio and television and appears in several books including 'Think Big' by Cydney O'Sullivan, 'The World's Greatest Martial Artists' by Ted Gambordella, 'Real Women's Self Defense' by Allen Woodman, the 'Who's Who in the Martial Arts' by Jessie Bowen.
A satisfied client said: "After only a few terms of training, I have seen a significant improvement in my children's focus and concentration in school and across all other areas of life, newfound confidence. This is not an arrogant 'I can beat anyone up' confidence, but a sense of security and maturity."
Interested parties can find more information by visiting https://usaschoolofselfdefense.com
Release ID: 89065520