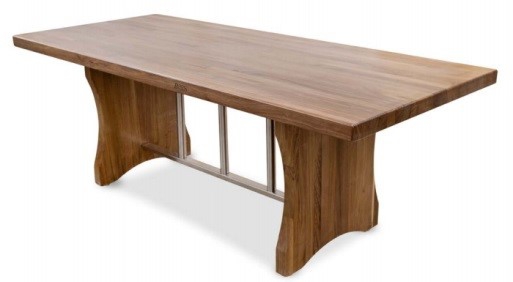 - March 10, 2016 /PressCable/ —
Although the Boos name is typically associated with the eponymous butcher block that the father and son team of Conrad and John Boos unveiled more than a century ago, Boos & Co. manufactures a wide range of furniture, equipment and accessories. A key challenge old-line companies like Boos faces is keeping its product line fresh and relevant in the face of evolving consumer tastes.
Boos' VP of Sales and Marketing, Ted Gravenhorst Jr., explains "It's important to stay on top of market trends, and these tables respond to two in particular. First, walnut continues to gain popularity as a wood of choice for kitchen countertops and dining tables. Second, consumers show increasing interest in products for the kitchen that blend materials – especially wood and stainless steel. Wood conveys a sense of natural warmth and steel is viewed as sleek and modern. In combination, wood and steel seem to strike just the right balance." According to Kathleen Grodsky, Marketing VP at Butcher Block Co. – Boos' leading online dealer – "The new John Boos Walnut Dining Table with Stainless Steel Trestle Base features an American Black Walnut blended butcher block top that's 2-1/4 inches thick, edge-grain butcher block trestle base legs, plus a structural stainless steel trestle bar." This table is a perfect fit for a contemporary kitchen, dining room, or even a conference room.
"Their Maple Trestle Table with Stainless Steel Pedestal Base is a slightly more architectural design," Grodsky went on to say. "While its Northern Hard Rock Maple butcher top is also 2-1/4" thick, it's constructed in edge-grain style, meaning each wood rail runs the full length of the table. But what really makes this table different is its stainless steel pedestals which are accented with maple wood overlays and a cross beam." About Butcher Block Co.: BBC is a leading online seller of kitchen countertops, furniture and accessories made by John Boos & Co. and other major manufacturers.
Release ID: 106523