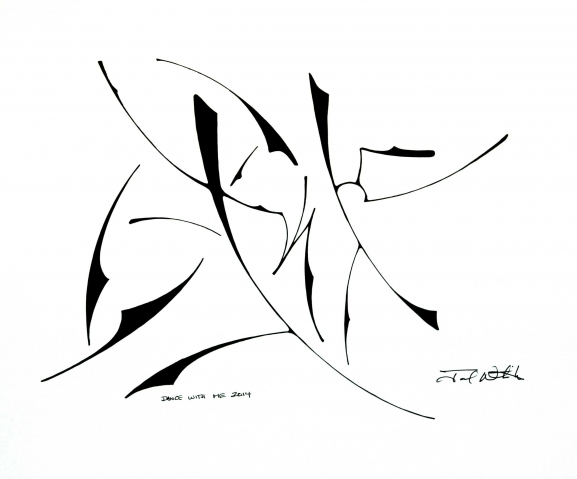 - January 19, 2017 /PressCable/ —
San Diego, CA – Meditations of Eclectic Balance will open at Fairouz Café and Gallery, February 7, from 5 – 9 P.M. A complimentary buffet will be served that evening. This exceptional exhibit of pen and ink drawings by Joel B. White will be on public view until March 7, 2017, at 3166 Midway Drive, #102, San Diego, 92110.
This show is composed of a wide variety of his art, featuring the people and objects he sees in the world translated into spare, abstract drawing.
Mr. Nashashibi, owner of Fairouz Café and Gallery, is gracious in his praise of Mr. White's work, stating, "When I explored Joel's works I was led through beautiful dreams."
Joel White is a pen and ink artist, and while some of his work is representational, most falls into the abstract, minimalist style.
He has exhibited at a variety of venues in and around San Diego, as well as in Minnesota and Washington State. His work was notably featured at the La Jolla Athenaeum Music and Arts Library's annual art show in 2013.
A self-taught artist, he has been creating art since a very young age, but has come to regard pen and ink as his primary medium of expression. He notes, "I am inspired by my spirit as I observe and listen to the every-day-world."
Born in Minneapolis, Mr. White moved to San Diego at age five, attended U.C. Berkeley, and has traveled extensively throughout the United States.
Fairouz Café and Gallery is owned and operated by Ibrahim Shafiq Nashashibi, a critically acclaimed and internationally renowned artist. Since 1984, The Café and Gallery has exhibited Ibrahim Shafiq Nashashibi's art, as well as frequently hosted other local artists. He regularly sponsors exhibits and shares the gallery space as part of the Cafe's outreach to the San Diego art community.
For more information and a preview of Mr. White's extraordinary work, please visit: www.joelwhite.net or https://www.facebook.com/JoelBWhiteArtist.
Release ID: 162310