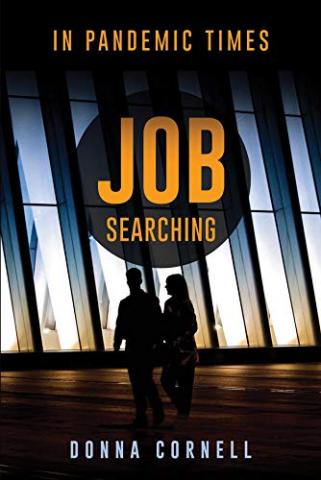 - September 16, 2020 /PressCable/ —
NEW YORK, NEW YORK, Sept 15, 2020 — Author Donna Cornell announces the release of her new book, Job Searching in Pandemic Times, via Amazon, for $19.95.
Job Searching in Pandemic Times offers prescriptive guidance for the millions of workers in the US who have lost their jobs during the Co-vid pandemic and have yet to be rehired. The pandemic caused by this virus has created a job war climate where talented candidates are battling for a chance at the few jobs that do exist, and Cornell's new book offers advice for embracing technology and standing out in the new virtual search process to secure a new position. The book contains concrete advice for the numerous potential obstacles of a job search in today's environment, along with supplemental worksheets and resources for every step of the process.
"There is an old saying that "timing is everything," says Cornell on finding employment in this new reality. "In this Pandemic or Post Pandemic world I do not believe that to be true. You are in control of how this job search goes…follow the steps in this book and you can create opportunities that were not timed to open; opportunities to expand and grow exist in all times."
Readers will gain insight into conquering key challenges the pandemic has presented job searchers, including:
· Virtual interviewing techniques – what candidates need to learn to enhance video interviewing skills, which require a different skillset and approach to differentiating yourself and get to the next level when face-to-face connections are absent.
· Applicant Tracking Systems – successfully navigate robotic search software to get your resume in the hands of a hiring manager and avoid getting lost in databases.
· Resume design in a new environment – creating a resume that positions you to stand out from the crowd by highlighting your value against the current needs of prospective employers.
· Master drill-down networking – the book teaches readers how to probe your network for leads, recommendations, and referrals. Learn how to develop a networking chain of connections to uncover leads and jobs before anyone else.
· Winning the interview – addressing some of the most dreaded questions and how to handle them to asking a potential employer the correct questions and creating your commercial to land the job.
"Donna Cornell's book Job Searching in Pandemic Times takes her expertise and makes it easily available to others right now when they need it the most. Her knowledge is exceptional, and she has created an insider's guide to getting the job you want. The virus has changed the job searching landscape.
· Pandemic and Covid Job challenges caused untraveled territory; Job Searching in Pandemic Times is the ultimate guide to help guide people to get the job they want.
https://cheddar.com/media/advice-for-job-hunting-amid-the-pandemic
https://drive.google.com/file/d/1LXFDb3BOggD264GJAGyJeE6YcgjOE6R7/view?usp=sharing
https://finance.yahoo.com/video/create-dynamite-resume-expert-job-181355879.html
https://www.facebook.com/JoshAndLisa/videos/2820656238153704
About the Author
As the founder of Donna Cornell Enterprises and a Certified Personnel Consultant, she has more than 20 years' experience recruiting talent, interview-training candidates, and counseling professionals throughout their careers. Job Searching in Pandemic Times follows her first book, Conquering the Life Balance Hoax, a Woman's Journey from Despair to Millionaire.
A highly successful entrepreneur, Cornell has been a driving force within the professional search, career counseling and life skills industries. Her leadership in the technical aspects finding talent the manufacturing, aerospace, chemical, and related industries gained through two decades of specialized recruitment, in addition to her technical expertise in finance, pharmaceutical, sales/marketing, research, semiconductor, optics and high-tech electronics, of which all enable her to assist individuals in identifying their transferable skills for employment. Building a search organization of 8 offices in 4 states has provided Donna with information not found in other career advice books.
Her leadership talents have been called up on behalf of many regional community endeavors, and her contributions have been recognized by her inclusion in 2000 Notable American Women, World Who's Who of Women; being named Business Leader of the Year by the Orange/Rockland Arthritis Foundation; being commended by the U.S. Congress; achieving the New York State Senate Recognition for Service Award; and being cited among the most influential people in the region.
Release ID: 88976985