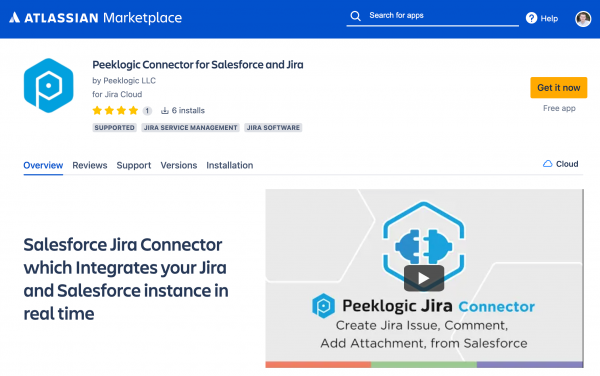 - September 23, 2021 /PressCable/ —
Peeklogic has announced a new upgrade to their popular Salesforce Jira Integration App, Peeklogic Jira Connector.
Peeklogic Salesforce Connector – an App published on Atlassian marketplace to extend existing app – Peeklogic Jira Connector published on Salesforce AppExchange marketplace. Enables real time sync of Jira Issues between Salesforce and Jira. Peeklogic Salesforce Connector also allows to select project and issue type to sync with Salesforce and create Jira issues from Jira to Salesforce, allowing real time integration. This feature helps to keep Sales teams up to date about what Support and Development tickets. With some additional configuration, automated updates could go directly to customer or to Support Portal saving tons of time for Sales Reps.
Peeklogic Jira Connector has multiple new features designed to make life easier for Salesforce CRM and Atlassian Jira Users including:
Real Time Sync from Jira to Salesforce – Ability to push updates to Jira issues from Jira to Salesforce
Real Time Reporting – Allows to report on Jira issues using Salesforce native reporting tool in real time
Real Time Automation – Allows to build automation flows around Salesforce and Jira Integration
A full list of changes to Peeklogic Jira Connector can be found on the company website, https://www.peeklogic.com/our-products/salesforce-jira-connector/ .
The changes in this Salesforce Jira Integration App were bought about due to make integration between Salesforce and Jira real time and seamless. As part of an ongoing effort to improve the user experience for Peeklogic Jira Connector, customers can expect regular updates both now and in the future.
Sergii Grushai, CEO, had this to say:
The company has worked hard over the last three months to bring these latest changes into production quickly
Current customers interested in learning more about the upgrade can do so directly on the website at https://marketplace.atlassian.com/apps/1226254/peeklogic-connector-for-salesforce-and-jira?hosting=cloud&tab=overview. New customers can also use the site to purchase the latest version of Peeklogic Jira Connector.
Release ID: 89046602