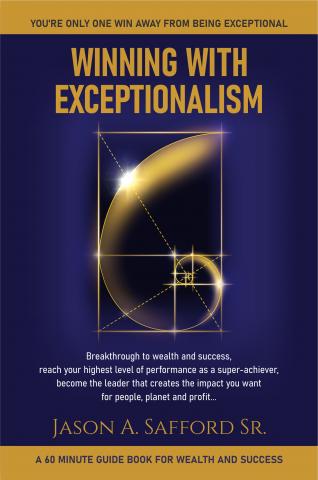 - September 8, 2020 /PressCable/ —
A new personal development book has been launched by Jason Safford, called "Winning With Exceptionalism." It was written to help readers breakthrough to wealth and success, reach their highest level of performance, and become a leader of people and planet for profit.
More information can be found at: https://www.winningwithexceptionalism.com
With a focus on self development and self-improvement, the newly launched book is designed to be a guide for those seeking wealth and success. Jason wrote the book for business leaders and high achievers who want to achieve more productivity and increased revenue.
The lessons and frameworks presented in the book are well suited to leaders, business owners, CEOs, executives, and managers. The book can also be utilized by entrepreneurs, startup companies, sales managers and professionals in a range of fields.
Jason explains that readers will learn how to take the right action to condense decades of personal development results into days. In addition to this, they can discover how to ask the right questions, learn the right tactics, and improve workflows.
A number of "breakthrough principles" are covered in the newly launched book. The first is the importance of mindset when dealing with approach to work. The book highlights that a readers' approach is the key to their success. How they approach things is more important than how they do things.
Another insight the book covers is the importance of time. It underscores that time is the essence of everything, and with this in mind it's the most valuable resource for professionals as they seek to achieve their goals.
Readers can also learn how to enhance their blueprint based on what others are achieving, innovate based on the needs of customers, and establish empathy to build customer loyalty.
Winning With Exceptionalism covers seven core principles throughout the book and was written with the intention of helping professionals to develop clarity and focus. By following the personal development steps and taking the principles to heart, readers attain the knowledge they need to create financial freedom.
Jason Safford is a speaker, author, entrepreneur and business coach who has dedicated himself to helping clients achieve the best results in their ventures. His new book was launched as part of this commitment.
Full details can be found on the URL above.
Release ID: 88975745