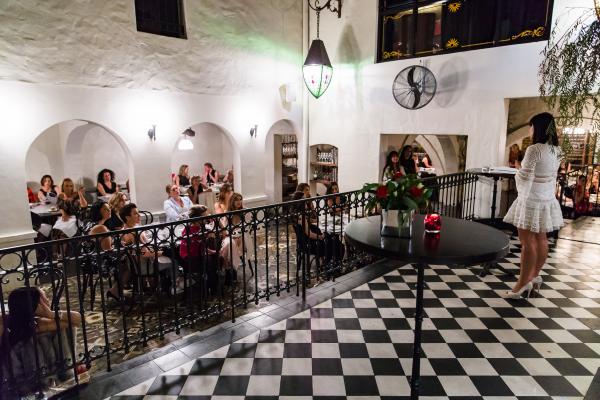 - March 20, 2018 /PressCable/ —
To celebrate International Women's Day 2018, Jasmyna Mercer, award winning marketer, serial entrepreneur and investor, was invited to speak at charity dinner Dress For Success: Empower Hour Initiative. Corporate leaders and entrepreneurs attended the inaugural event, organised by Sonia Gouveia at Porteno, in Sydney Australia.
The event had three main speakers, Julie Stocca from Dress For Success; Daniella Boutros from Buttercreme Lane and Jasmyna Mercer, Serial Entrepreneur.
More information about Jasmyna Mercer can be found at: https://jasmynamercer.com/
Julie Stocca spoke about the importance of financial independence for women while Daniella Boutros talked about having the confidence to do whatever you put your mind to.
Building on from those two messages, Jasmyna Mercer spoke about how female entrepreneurs and women in corporate could use personal branding, digital marketing and social media effectively to stand out from other businesses and job candidates and become leaders in their industry.
The event also featured an an exclusive performance by Krystie Steve.
Dress For Success: Empower Hour Initiative and its efforts take thousands of Australian women from welfare to the workplace. The initiative provides a wide variety of career development workshops free of charge and job interview training, resume consultations and professional clothing or styling sessions to empower and upskill women to thrive in the workplace.
Having worked with Hollywood celebrities, athletes and brands such as Microsoft, Qantas, Armani, Chanel, Prada and Pantene as well as SMEs and emerging talent looking to stand out, Jasmyna Mercer spoke on both the grind and the glitz and glamour that has underpinned her career so far.
Drawing on her experiences as a successful, self made businesswomen; a marketer and a business consultant for entrepreneurs and companies, Jasmyna Mercer also provided some tips on what it takes to stand out in today's workplace and how to properly brand and market oneself for professional success.
"People work with people that they know, like and trust; and people do business with people that they know, like and trust," says Jasmyna Mercer. "Effective online personal branding takes your ideal target audience through the brand awareness, consideration, and loyalty phases faster and easier. This attracts ideal clients, customers, employment and investment opportunities rather than having to chase."
The Sydney charity dinner celebrating working women trying to break through and make it, follows Jasmyna Mercer's appearance as Speaker at the Mega Success business summit in Los Angeles, where she shared the stage with JT Foxx, John Travolta, Mark Wahlberg, Mel Gibson, Jay Abraham, Steve Wozniak, Hugh Hilton, Nido Qubein, George Ross, Bethenny Frankel, Bret Michaels, Michael Buffer, Gene Simmons, Vanilla Ice, Christie Brinkley and Charlie Sheen.
To hire Jasmyna Mercer as a speaker, see some of the successful campaigns she has created for brands and celebrities around the world or find out more about how her marketing services can help entrepreneurs and brands stand out, visit Jasmyna Mercer's website at the link provided above.
Release ID: 316024