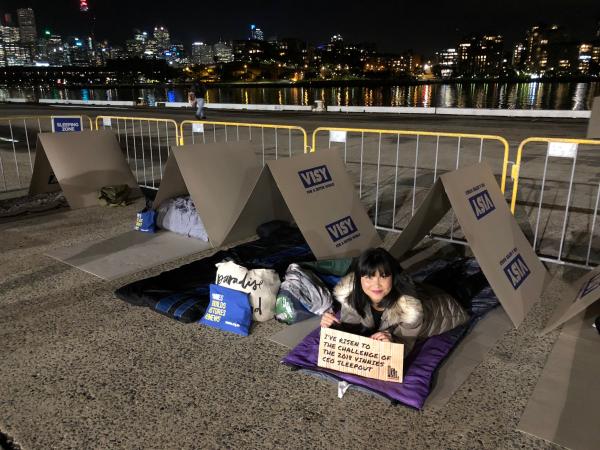 - June 27, 2018 /PressCable/ —
Vinnies CEO Sleepout is an annual event where CEOs and leaders in business, community and government sleep rough for one night to help raise awareness and funds for Australians experiencing homelessness.
Vinnies CEO Sleepout was held on June 21st, 2018. Australia wide there were eleven locations with 1,484 CEOs participating in the event.
More information about Vinnies CEO Sleepout can be found at: https://www.ceosleepout.org.au/
This unique event enables business, community and government leaders to learn more about homelessness by experiencing some discomfort for a few hours and a small glimpse of what over 116,000 Australians experience every night.
The aim is for the CEOs to use what they experienced and their influence to bring the issue of homelessness to the forefront, inspire action and effect long term change amongst their employees, networks and communities.
The Sydney event was held at White Bay Cruise Terminal with 327 CEOs participating in the event.
The evening started with a face to face experience, where the CEOs were assigned in small groups to meet with a person that Vinnies have assisted. The conversation was guided by an experienced Vinnies case worker and it was a good opportunity for the CEOs to speak directly with a person who have experienced homelessness and share their thoughts and feelings.
Throughout the night, the CEOs heard from a number of speakers, their stories showing the different faces of homelessness in Australia.
After the formal presentation, the CEOs were given a cup of soup and a couple of sheets of cardboard, and were responsible for finding a place to sleep for the night.
"There were several moments of breakthrough, which changed the stereotypical perception of homelessness," said Jasmyna Mercer. "The causes are more than drug addictions and mental health. There's a severe lack of affordable housing, especially in Sydney. Many people are only two pay cheques away from losing their home. Women are the most vulnerable with domestic violence being the number one reason why women and children seek support. Of particular concern are the rising number of women over 55 experiencing homelessness. In addition, the feelings are more than cold and hunger, there are complex feelings of vulnerability, being unprotected, worthlessness, embarrassment and hopelessness. Vinnies is a really good cause and aims to help people as early as possible, before they go on a downward spiral."
The 2018 Vinnies CEO Sleepout event have raised over $6.4 million that will go to Vinnies homelessness services.
Vinnies are still taking donations until the end of August so the impact can be even greater. To donate, visit Vinnies CEO Sleepout website at the link provided above.
Release ID: 366496