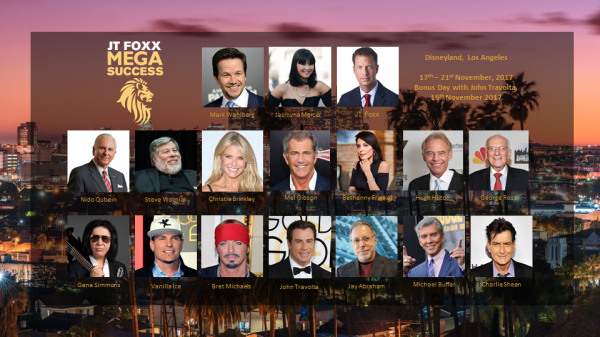 - November 30, 2017 /PressCable/ —
Jasmyna Mercer, the award winning marketer, serial entrepreneur and investor, spoke at Mega Success, presented by JT Foxx. Mega Success is an annual business summit organised by the JT Foxx Organization, and was held at Disneyland Resort, Los Angeles, California.
More information about Jasmyna can be found at: http://jasmynamercer.com
Mega Success attracts many of the top entrepreneurs from around the world, including millionaires and billionaires. In 2017, Mega Success had over 2,500 attendees from 71 countries.
Jasmyna Mercer shared the stage with JT Foxx, John Travolta, Mark Wahlberg, Mel Gibson, Jay Abraham, Steve Wozniak, Hugh Hilton, Nino Qubein, George Ross, Bethenny Frankel, Bret Michaels, Michael Buffer, Gene Simmons, Vanilla Ice, Christie Brinkley and Charlie Sheen.
There were expert international speakers presenting on topics ranging from cryptocurrency to property. Jasmyna Mercer presented Invisible to Influential: The Power of Marketing Your Personal Brand Online.
Successful serial entrepreneurs such as JT Foxx, Richard Branson, and Marie Forleo have multiple businesses, are known as leaders in their fields, and have a strong personal brand.
Personal branding is the process of creating a recognizable reputation in the minds of the ideal target audience. Many entrepreneurs, coaches, consultants, sales professionals, service professionals and start up founders could benefit from personal branding.
"People do business with people that they know, like, and trust," says Jasmyna. "Online personal branding takes your ideal target audience through the brand awareness, consideration, and loyalty phases faster and easier."
This means that business owners and entrepreneurs that want to attract more clients or investors should start building their personal brand. Potential clients and investors would be more willing to do business with individuals or invest in people with an authentic personal brand.
Jasmyna Mercer explains that, with Google search and the popularity of social media, now is the ideal time to build a personal brand.
Anyone wanting to get in touch with Jasmyna Mercer to learn more can find contact details on the URL above.
Release ID: 270686