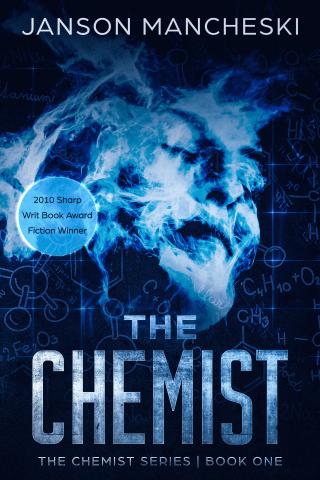 - April 29, 2019 /PressCable/ —
The chemist leaves no evidence as he kidnaps his victims. No one has ever seen him, heard his voice, or felt the touch of his hand… and lived to tell the tale.
Janson Mancheski's chilling crime thriller series, The Chemist Series, relaunches on Amazon on April 30th. Book 1 is The Chemist, book 2 is Trail of Evil, and book 3 is Mask of Bone. Though the books can be read as standalone novels or in any order, it is highly recommended to read them in order for the best reading experience.
"The book is well worth reading: tautly written, a plot that moves skillfully and kept me in suspense and with good character development and touches of humor." -Amazon Reviewer
The Chemist Series is about a homicide investigator's action-packed search for the meticulous killer, The Chemist, and also sheds light on the heinous crime of human trafficking which is growing in the USA. The Chemist blends into everyday life. Like a chameleon, he arouses no suspicion. He is charming, intelligent, friendly and a sociopath. Having created a liquid sedative/fentanyl cocktail that allows him to kidnap any victim he chooses, day or night, leaving no trace or clues behind, he begins his abduction spree. Thus the problems begin for homicide investigator Cale Van Waring, who heads up the Special Crimes Unit for the Green Bay PD.
"Mysteries, intrigue and forensic science… This book has it all. It's not a short book, but still couldn't put it down." -Amazon Reviewer
The Chemist feature film is being optioned by Voyage Media Productions.
Mancheski was was contacted by a movie production company last year. They inquired about turning his first novel, The Chemist, into a motion picture. The book captured first place in the Fiction category, winning the national Sharp Writ Book Awards. Mancheski agreed to the terms that Voyage Media Productions was offering, and after a few months of negotiation, they also allowed him the chance to write his own version of the screenplay, which has been met with great enthusiasm from those who've had a chance to read it. Now that the movie has moved to the pre-production phase, with investors being selected, and A-list actors being lined up, The Chemist novel is being relaunched with a new more gripping and chilling cover design.
Check it out on Amazon here along with Trail of Evil and Mask of Bone, the other books in the series: https://www.amazon.com/gp/product/B07MC5RXX2
Janson Mancheski is the award-winning author of five novels. The Chemist Series (The Chemist, Trail of Evil, Mask of Bone) featuring Detective Cale Van Waring, are all set in Green Bay, Wisconsin. The Chemist captured first place for fiction in the Sharp Writ Book Awards in 2010. Voyage Media Productions has accepted Janson's screenplay version of his book, and casting and production offers are currently being reviewed. The Chemist movie script was a top 16 semi-finalist 2018 Big Break Screenplay Awards and a top 16 semi-finalist 2018 Blue Cat Screenplay contest. Nuck (screenplay) was a Writer's Digest 2011 top 10 finalist in the movie script category.
Janson has authored a number of short stories and been granted awards for multiple screenplays.
The screenplay version of Janson's fourth novel, Shoot for the Stars (an historic Green Bay Packers "What If" novel), was a finalist for the 2014 Writer's Digest creative fiction awards. His latest novel The Scrub was published in December 2017.
A University of Wisconsin-Green Bay graduate and practicing optometrist, from 1985 – 2005 Janson worked with the UW-Green Bay men and women's basketball teams. He also functioned as team eye doctor for the Green Bay Packers from 1990 – 2002.
He resides in his hometown of Green Bay and is an ardent Packers and Wisconsin Badgers fan.
View the entire Chemist Series on Amazon here: https://www.amazon.com/gp/product/B07PY48NSC/ref=series_rw_dp_sw
" A must read for anyone who likes suspense and a really great mystery." -Amazon Reviewer
Download Janson Mancheski's suspenseful free short story The Decoy at http://www.jansonmancheski.com where you can also watch the movie trailer for The Chemist.
Also download Janson Mancheski's book The Greatest Hits – The Chemist Series, a compilation of some of the most interesting and frightening scenes from The Chemist Series, for free on Amazon.com: https://www.amazon.com/Chemist-Greatest-Killers-Traffickers-Perverts-ebook/dp/B07NKM362F
Release ID: 503029