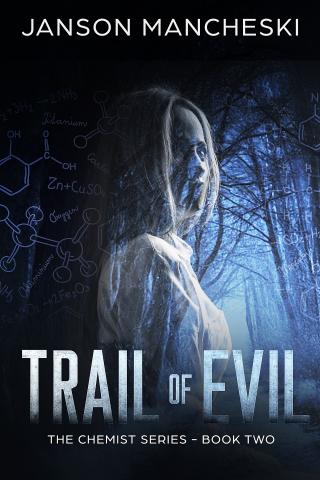 - April 16, 2019 /PressCable/ —
The Chemist blends into everyday life. Like a chameleon, he arouses no suspicion. He is charming, intelligent, friendly…and a sociopath who kidnaps unsuspecting women.
Janson Mancheski's crime thriller, Trail of Evil, book 2 in The Chemist Series, relaunches on Amazon on May 2nd for only $0.99. Book 1 of the series is The Chemist, book 2 is Trail of Evil, and book 3 is Mask of Bone. Though the books can be read as standalone novels or in any order, it is highly recommended to read them in order for the best reading experience.
In the second book in this eerie series, the serial killer known as the Chemist is incarcerated, awaiting his upcoming trial. But to Green Bay detective Cale Van Waring, the case is far from over. Two female victims remain missing, and time is running out. A tip pointing to international human traffickers is Cale's only lead, and it poses an immediate problem: the ring is based in Central Europe.
Making matters worse, Cale learns that his fiancée, Maggie, is pregnant—perhaps at the hands of the man who had kidnapped and raped her.
"Read this book. Such a demanding book review title certainly invites cynicism and skepticism, but I dare you to read this novel and not get swallowed up into this richly enticing world of mystery, adventure, and inexplicable horror.
Detective Cale Van Waring, has just concluded a long and difficult case for the eponymous 'Chemist,' for which the first book in this series is named. The Chemist, or better known by the daytime façade Tobias Crenshaw, is now awaiting trial, and unexpectedly offers the name of a Liberian human trafficker for a reduction of charges. Few buy this ruse, but as Van Waring finds himself serving a temporary suspension for the questionable tactics that helped capture Crenshaw in the first place, he decides to leave the country and try to either find this "Kinsella," or prove his non-existence so that the man who abducted dozens of girls, caused the deaths of many, and even raped Van Waring's fiance will be put to commensurate justice.
With the help of a CIA contact, he is able to tap into the help of Interpol and recruit a band of savvy, agile, and well-equipped mercenaries from Italy to aid in a hunt that will lead him deep into the dark jungles of Africa, where trouble awaits, and nightmares are born." -Grant Cousineau, Amazon Reviewer
Check out Trail of Evil here on Amazon for only $0.99: https://www.amazon.com/gp/product/B07MQ2C6ZD
Janson has authored a number of short stories and been granted awards for multiple screenplays.
Mancheski's The Chemist (first in The Chemist Series) captured first place for fiction in the Sharp Writ Book Awards in 2010. Voyage Media Productions has accepted his screenplay version of his book, and casting and production offers are currently being reviewed. The Chemist movie script was a top 16 semi-finalist in the 2018 Blue Cat Screenplay contest. And one of his other screenplays was a Writer's Digest 2011 top 10 finalist, movie script category.
The screenplay version of Janson's fourth novel, Shoot for the Stars (an historic Green Bay Packers "What If" novel), was a finalist for the 2014 Writer's Digest creative fiction awards. His latest novel The Scrub was published in December 2017.
A University of Wisconsin-Green Bay graduate and practicing optometrist, from 1985 – 2005 Janson worked with the UW-Green Bay men and women's basketball teams. He also functioned as team eye doctor for the Green Bay Packers from 1990 – 2002.
He resides in his hometown of Green Bay and is an ardent Packers and Wisconsin Badgers fan.
View the entire Chemist Series on Amazon here: https://www.amazon.com/gp/product/B07PY48NSC/ref=series_rw_dp_sw
Download Janson Mancheski's suspenseful, shocking free short story The Decoy at http://www.jansonmancheski.com where you can also watch the movie trailer for The Chemist, book 1 in the Chemist Series.
Also download Janson Mancheski's book The Greatest Hits – The Chemist Series, a compilation of some of the most interesting and frightening scenes from The Chemist Series, for free on Amazon.com: https://www.amazon.com/Chemist-Greatest-Killers-Traffickers-Perverts-ebook/dp/B07NKM362F
Release ID: 503012