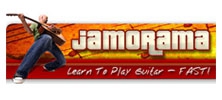 - August 24, 2016 /PressCable/ —
One of the top 3 platforms for learning guitar online, called Jamorama, has had a major remodel in order to help aspiring guitarists see more success and in a shorter time-span. The whole idea sprang from the observations of long time tutors and Jamorama founders, Jon Coursey / David McKinnon and Mark Ling. Since founding Jamorama back in 2003, they have seen great success and carved out a solid reputation for themselves as a force to be reckoned with when it comes to learning guitar online.
Jon says, "Exciting new changes are coming to Jamorama! We're proud to announce that we're introducing social networking to the site. Whether you're just getting into guitar or you're a seasoned veteran, the new social tools will help you build a strong support network that you can go to for encouragement, advice and support for years to come."
Interested persons can find out more about the "All New" Jamorama platform at http://guitarbrief.com/jamorama
Jon continues with saying that "The new Jamorama social platform allows you to connect with other guitar learners just like you, post comments and photos to your friends walls, stay in the loop via the News Feed, and "Like" and share your favorite posts. And with Wall Privacy, you get full control over who sees your posts – Everyone, only you, all logged-in users, or just your friends."
Also the addition of new forums, where users can quickly get help with any of their issues, and an all new learning dashboard that gives quick access to everything the platform has to offer in one place, everything is looking really professional.
But they haven't stopped there, Jon says "The arrival of the Jamorama social platform will also be an excellent time for us to add some new courses to the library", and so they have got to work and created even more features to add in the mix. Jon says "Mark is currently working on three courses in the following areas: singing and playing guitar, creating music with a loop pedal, and getting ready to jam with others."
All in all, it looks like Jamorama is set to rock strongly for a long time to come.
There is a full, in-depth analysis of the "All New" Jamorama platform at http://guitarbrief.com/jamorama
Release ID: 102618