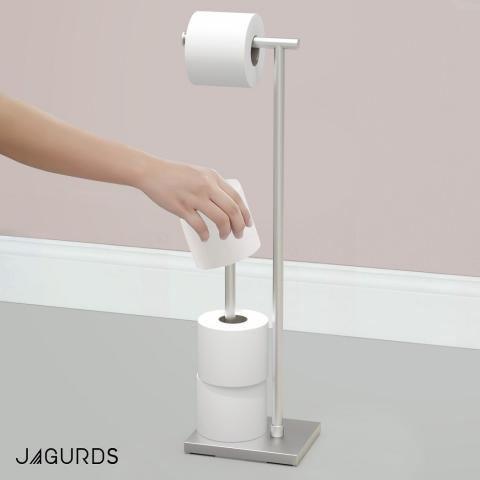 - November 11, 2021 /PressCable/ —
JAGURDS is delighted to announce the launch of a free standing toilet paper holder on Amazon. The home and kitchen products brand assures people who lack built-in toilet paper roll holders in their bathrooms, that they can rely on its free standing toilet paper holder to easily access toilet paper and also free up cabinet storage that would normally have been occupied by bulky toilet paper rolls.
The toilet paper holder stand by JAGURDS comes in an aesthetically pleasing and thoughtful design that promises to improve the beauty of bathrooms as much as it does the accessibility of toilet paper. At full length, the toilet paper holder measures 20.08 inches (51cm) and features a roller arm with a length of 4.9 inches (12.6cm).
Capable of housing different household size rolls such as the regular, mega, jumbo, and forever sizes, the roller arm also possesses a roller cap for preventing slipping and keeping the toilet roll in place.
Made of stainless steel, the free-standing toilet paper holder is rustproof, completely protecting the stand from corrosion and rust, making it perfectly suitable for humid conditions such as bathrooms and kitchens.
JAGURDS reassures customers that the free-standing holder features a sturdy build designed to prevent it from tipping over. It utilizes a weighted base for added stability, as well as anti-slip padding underneath the base to prevent the toilet paper stand from sliding or scratching the bathroom and kitchen surfaces.
The free standing toilet paper stand has continued to receive rave reviews regarding its functionality and appearance, with satisfied customers giving the product 5 star ratings.
"Love the stand; easy to assemble. I would have liked the stand to be a bit taller but my husband pointed out that the base would have had to be larger to keep it sturdy. So, I've decided that I like the stand just the way it is. The guest bathroom is small so it fits perfectly." – Readsalot.
"Very, very fast delivery, and the item was super and securely packed. The toilet roll holder makes a very good, robust and high-quality impression. The assembly is child's play, stands perfect, and serves its purpose. The "brushed stainless steel" version looks noble and we have often been asked to where we purchased it. Clear buy recommendation." – nmcsonic.
Release ID: 89052194