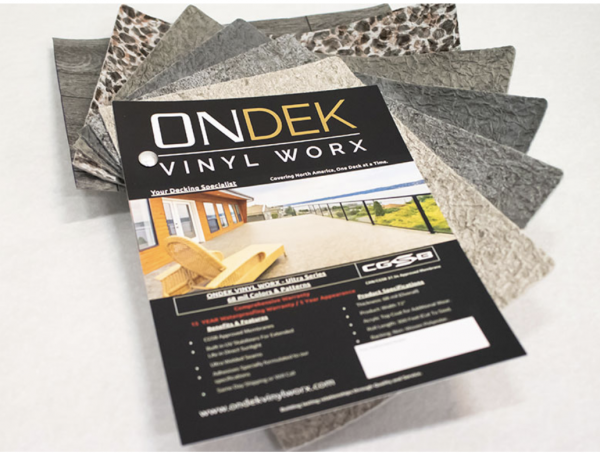 - December 29, 2020 /PressCable/ —
OnDek Vinyl Worx, a full service waterproof vinyl decking membrane company in Wellsville, Ohio, announced the launch of an updated range of high-quality waterproof vinyl decking products. The company serves roofers, general contractors, architects, decking companies and pool installers in Florida, Georgia, California, and many more.
More information can be found at https://ondekvinylworx.com
The newly launched range of waterproof vinyl decking products at OnDek Vinyl Worx aims to help contractors working in the new construction and renovation markets prevent leaks and protect substructures.
OnDek Vinyl Worx offers vinyl deck and roofing membranes that add beauty and value to any waterproofing project. These products provide slip resistance, decrease maintenance needs, reduce repair needs and ensure long-term durability.
Their polyvinyl chloride (PVC) products can be used wherever waterproofing is required, including decks, patios, balconies, walkways and roof decks. They are manufactured in roll stock and have a non-woven polyester back layer to promote glue adhesion.
In addition, one side of their Ultra Seam vinyl decking membrane has no fleece or woven material attached to the membrane, allowing the installer to overlap each run by 3/4 inches to 1 inch and weld PVC to PVC. This guarantees complete waterproofing.
All OnDek Vinyl Worx membranes are North American-made and meet US standards in accordance with ICC-ES AC75, Acceptance Criteria for Membrane Roof-Covering Systems.
Grant Barlow, co-owner of OnDek Vinyl Worx, has delivered proven waterproofing solutions for decks, balconies, walkways and many other types of exterior surface applications for the past 30 years. He has installed more than 108,000 square feet of decking membranes on rooftop decks, porches, and balconies, and more.
Grant has also received Builder's Exchange Craftsmanship Awards for Finish Carpentry and Framing Carpentry.
A spokesperson for the company said: "Our mission is to provide the highest possible level of professional construction products and service for our clients, in an atmosphere of mutual support, teamwork and uncompromising standards."
Interested parties can find more by visiting the above-mentioned website, or they can call the company to receive a free OnDek Design Kit and place an order.
Release ID: 88991592