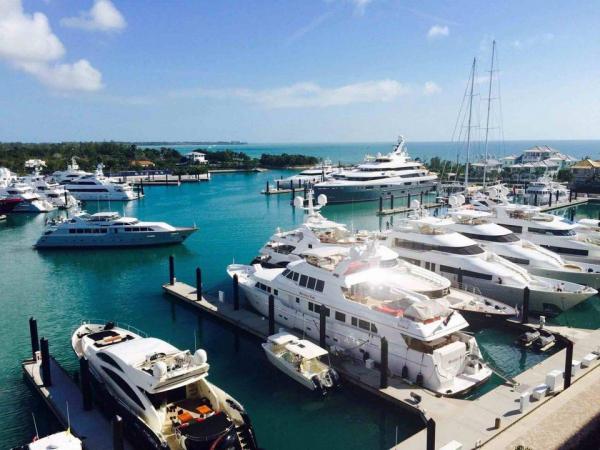 - April 18, 2019 /PressCable/ —
For Immediate Press Release
NASSAU, Bahamas, (CSB) April 16, 2019
Tiger Woods is atop the golf world once again and The Bahamas is all abuzz, as he wins the 2019 Masters, capturing his fifth green jacket and first since 2005 on Sunday. Bahamas Realtor, Glenn Ferguson is attributing apart of Tigers success to The Bahamas. Saying, "We are very happy to have Tiger in The Bahamas and to be a small part of what he has been able to accomplish by giving him the opportunity to relax and rejuvenate in our tropical paradise and from all indication its one of his favorite vacation destinations."
To get information and listings of homes for sale in The Bahamas go here – http://luxury-homes-bahamas.com/homesforsaleinthebahamas
Tiger, in an interview promoting his 2018 Hero World Challenge which he host in The Bahamas, talking about The Bahamas said he come down here quite a bit and always will. Stating that he "Loves coming down to Albany, loves coming down to The Bahamas," Woods continued that he "Went free-diving for lobsters the other day and that was actually a blast, loved being in the water and would say likes working on tan" but thinks he already has one so it's not because of that, "Just loves coming down here, everyone is laid-back and it's very much like the So-Cal attitude," where he grew up.
Tiger loves it so much that he is an investor at the exclusive Albany Bahamas Resort, along with Joe Lewis of private investment organization Tavistock Group, fellow golfer Ernie Els and actor and musician Justin Timberlake, where he also owns a residence.
Woods and his family spend a lot of time in The Bahamas free diving for lobsters, lounging on the beautiful beaches and enjoying the privacy that Albany offers, while occasionally posting fun pictures to Instagram of his catch of the day.
Ferguson, was also quick to point out that 6 time green jacket winner Jack Nicklaus was also an enthusiastic fan of The Bahamas, saying "Jack was here bone fishing during the final round of the Masters and came in from fishing to watch Tiger finish up."
In responding to the questions "Can a foreigners buy a house in The Bahamas?" Ferguson says "The Bahamian real estate market overtime has developed into an accommodating host for international investments and there are no restrictions on foreigners buying property. In fact, the International Persons Landholding Act which took effect in January 1994 and amended in 2007, replacing the Immovable Property Act of 1981, makes it much easier for foreigners to purchase property in the Bahamas. There is also The Bahamas Vacation Plan and Timesharing Act, 1999, which protects vacation home owners allowing them to buy real estate without risk."
Ferguson goes on to say however, that "The property must be registered with the Investment Board and the Central Bank after the purchase and a permit from the government is only needed if the property you are buying is more than five acres or is an undeveloped piece of land."
When asked about "buying a vacation home in The Bahamas?" Ferguson said, "The same rule apply to buying a vacation home, with the exception that the law requires all foreigners who plan to lease out their properties to register with the Bahamas Investment Authority and pay and collect the appropriate fees. Annual resident permits are also available with varying costs depending on the category of permit. These cards allows the holder to remain in The Bahamas for the duration of the permit and is intended to facilitate easy entry into The Bahamas with minimal formalities." However, it's important to note that these cards do not permit the property owner or holder to be employed in The Bahamas.
The government also offers accelerated consideration of applications for annual or permanent residence to major international investors and owners of residences valued at $500,000 or more.
When asked about "the best place to buy property in The Bahamas" Ferguson said that "Undoubtedly, the most popular places are on New Providence, with its capital Nassau and Paradise Island being home to some of the sought after communities like Lyford Cay, Old Fort Bay, Ocean Club Estate and off course since we are talking about the Masters champion, there is the ultra luxurious Albany Resort where Tiger Woods has his home, along with Adam Scott and Ernie Els."
See – http://luxury-homes-bahamas.com/bahamas-realtor-on-buying-property-in-the-bahamas-like-masters-2019-champion/
About Albany Bahamas:
Albany Bahamas, jointly owned by Joe Lewis of Tavistock Group, Tiger Woods, Ernie Els and actor Justin Timberlake, opened in 2010 is a 600 acre luxury resort community designed to be where one can live, work and play, with residences to meet any lifestyle from vacation villas and custom homes with golf course views to beachfront estates with ocean vistas and dramatic penthouses overlooking the marina. Located on New Providence in The Bahamas, Albany enjoys convenient access to banking, healthcare, emergency services, educational facilities such as Windsor School and transportation, just minutes to private airfields and Nassau's international airport with non-stop flights daily to major US and international cities, as well as taking advantage of the favorable tax environment The Bahamas offers.
About Condos for sale in The Bahamas:
Condos for Sale in the Bahamas is a luxury real estate firm founded in 2001 located on West Bay Street in Nassau, New Providence and provides individually tailored real estate consulting and marketing services for persons looking to buy, sell or lease realty in The Bahamas. The company boasts of having strategic partnerships with Legal, Accounting & Tax, Finance & Investment expertise, making it a one stop shop for investors looking to buy real estate in The Bahamas.
Release ID: 503941