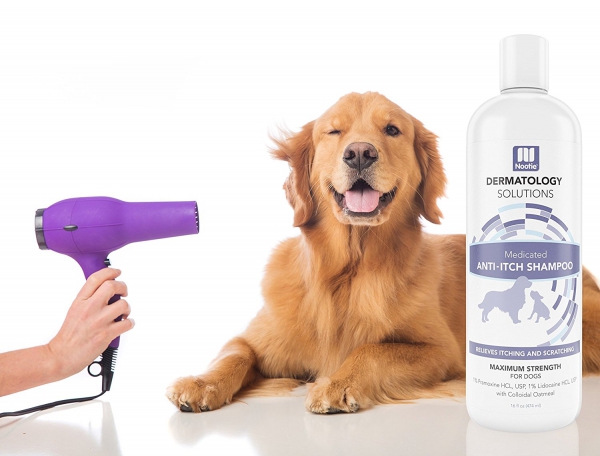 - November 30, 2016 /PressCable/ —
Nootie has debuted a medicated shampoo with a special ingredient. The itchy dog shampoo has been receiving 5-star reviews on Amazon. It is a anti-itch shampoo that contains an ingredient that humans love using in skincare products, oatmeal. Oatmeal is known to soothe and comfort skin, and Nootie felt that it would be a welcome addition to their pet shampoos.
"During our testing periods, oatmeal had so many positive results that we knew we had to add it into an anti-itch formula," a Nootie rep comments, "We knew we had a winning dog shampoo when we could get it to not only work, but get it to smell great as well. The end result is our Nootie Medicated Oatmeal Dog Shampoo, and we couldn't be happier with the results."
Many customers are ecstatic about how well the product works. Buyers have been using this dog shampoo on puppy and adult dogs. One customer says, "This shampoo is a blessing for winter! I know we aren't technically there yet, but I live in the south and after a harsh, hot winter that's been rough on my dog's skin and going into a sudden drop in weather, she has been really itchy and uncomfortable. She's an inside dog (my baby) so I didn't want to have to use a strong flea shampoo or anything overly medicated, and I still wanted her to smell nice. This works great. It hydrates her skin so she doesn't scratch and the little spot of hair she had nipped down has started growing back already. I will definitely buy this shampoo again as it works perfectly for us."
Buyers also love how the this soap-free formula won't affect any tick and flea medications, "Nooties Medicated Anti-itch shampoo for dogs is a wonderful shampoo for your furry friends! This shampoo helps to soothe your dog's itchy skin and helps to keep him from itching and scratching. It is completely soap free and will not affect the flea and tick treatments you use on your dogs. This shampoo is not your typical shampoo. It is medicated and has oatmeal to help reduce itching. It works well in conjunction with the Nootie anti itch spray conditioner to keep your dog's skin and hair in wonderful condition."
Buy the Nootie medicated shampoo at http://www.amazon.com/itchy-dog-shampoo/dp/b0108lv…. The Nootie oatmeal conditioner spray can also be purchased on Amazon.
Release ID: 150642