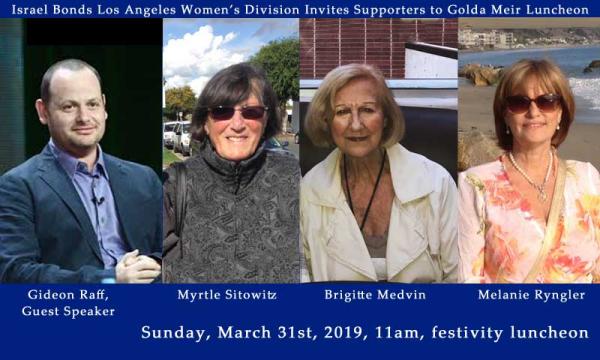 - March 22, 2019 /PressCable/ —
On Sunday, March 31st, 2019, 11am, at a festivity luncheon, at the Four Seasons Hotel, Los Angeles, California, Development Corporation for Israel (DCI), commonly known as Israel Bonds, will be honoring Melanie Ryngler, Brigitte Medvin and Myrtle Sitowitz, three distinguished, long-time Zionists who are great supporters of Israel Bonds.
Development Corporation for Israel (DCI)/Israel Bonds, a member of Financial Industry Regulatory Authority (FINRA), ranks among Israel's most valued and successful economic and strategic resources, with proven success record spanning nearly 70 years.
By partnering in Israel's astounding all-around success story, through the investment in Israel bonds, the Israel Bonds organization has become global in scope, with worldwide sales exceeding 42 billion dollars.
Praised for its reliability, the Bonds' organization has helped in the building of every sector of Israel's successful economy.
Proceeds from the sale of Israel bonds have played an effective and decisive role in Israel's rapid evolution into a global leader in high-tech, green-tech and biotech groundbreaking achievements.
With guest speaker Gideon Raff, the creator of the critically acclaimed Showtime TV Series "Homeland" and entertainment, financial and real estate industry, supporters of the State of Israel in attendance, the festive luncheon will once again emphasize the growing confidence in Israel's continuously expanding economy.
Also present will be Jean Friedman, Israel Bonds' Women's Division Chair and Gina Raphael, Los Angeles Chair, Georgette Joffe, Laura Stein and Leigh Stein will chair this milestone 2019 luncheon.
Israel Bonds invites supporters to become a partner in the ongoing success and in Israel's future; making an investment in Israel bonds benefits the future of the Jewish people in their homeland, Israel.
For event information and for investment inquiries please contact: Brigitte Medvin, registered representative: b.medvin@israelbonds.com | tel.: 310-996-3004.
More information can be found at the Development Corporation for Israel (DCI)/Israel Bonds website : https://israelbonds.com/
Release ID: 494506