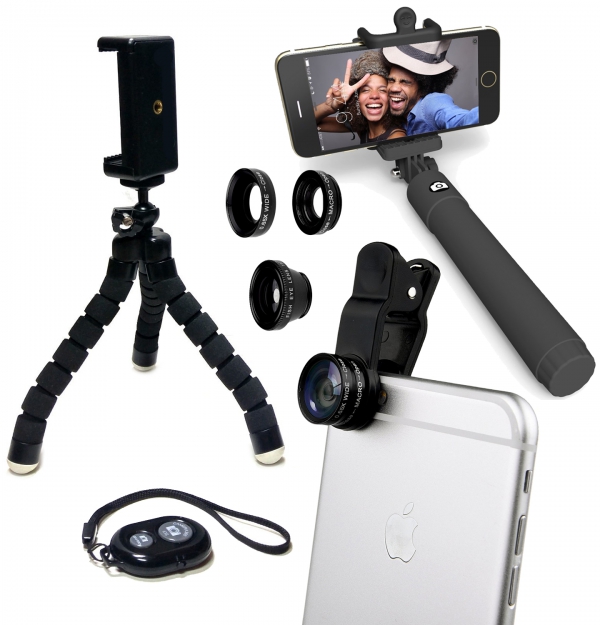 - September 28, 2016 /PressCable/ —
The Eye-Pro IPhone Camera Accessories Kit, a premier and high quality smartphone photography accessories kit including three different lenses, an expandable selfie stick and a flexible mini tripod along with a remoter shutter, has been launched by Handcrafted Goods.
More information is available at https://amazon.com/Eye-Pro-iPhone-Camera-Accessories-Lens/dp/B01GSE3I5U.
The newly announced iphone camera accessories kit is a premier, complete and affordable solution to provide more advanced or amateur and social media centered photographers with all the necessary tools to surpass common smartphone camera limitations and easily create and capture flawless, memorable and unique images with their IPhone, Samsung or Android phone cameras.
The Eye-Pro IPhone Camera Accessories Kit provides three high-quality Fisheye, Wide-angle and Macro lenses that can be easily clipped over the rear or front camera on IPhone, IPad, Samsung or Android devices. The lenses come with a bonus lens-cleaning carry bag. The accessories kit also includes an expandable selfie stick with a lock-tight phone mount that can be rotated 270 degrees to capture every angle and take better selfies or groupies in every location.
The leading phone camera accessories kit also includes a flexible Mini Octopus Tripod to easily mount iphone cameras on poles, branches, handlebars or any other structures to capture unique angles or perspectives. A convenient remote shutter release, ideal for hands-free photo and video capture up to 30 feet away, is also included.
More information on the Eye-Pro IPhone Camera Accessories Kit and details on its leading and convenient bundle of high quality smartphone photography items to help photographers easily create and capture the best possible pictures with their phones can be seen along with customer testimonials and ratings at the link provided above.
Drew Waters, Product Design Manager at Handcrafted Goods, reveals that "our customers tell us our smartphone camera accessories are the best they've ever tried. This smartphone camera kit offers all the accessories needed for photographers of all levels to wow friends and social media followers with unique images and always be equipped to capture those important moments in unique and memorable ways with their IPhone, Samsung and Android phone cameras".
Release ID: 134684