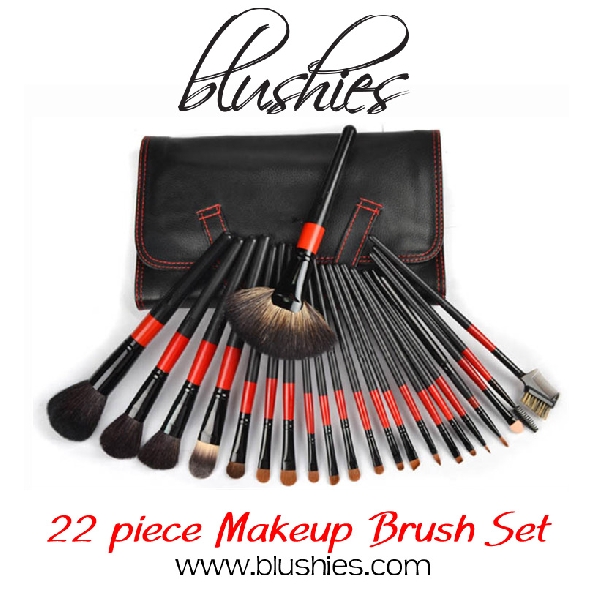 - October 16, 2014 /PressCable/ —
Blushies is announcing the grand opening of their website and introduction of their flagship product, a 22-piece makeup brush set. The set will assist women and makeup artists around the world to apply makeup in a professional manner with easy-to-use brushes. Blushies.com offers expert advice on makeup brushes and their uses, while their must-have makeup brushes are available for purchase on Amazon. 
Enhancing Beauty Everywhere: Blushies.com was created to provide tips and information about creating the perfect look, while providing the best makeup brushes atr affordable prices. The company believes that everyone is beautiful and should always look their best. To support this belief, Blushies offers only the best products to its customers in order to help them shine. Tips regarding makeup brushes and their uses, as well as product information can be found at Blushies.com.
 Due to the high cost of professional makeup brush sets, most women get stuck with cheap, low quality brushes instead. Unfortunately, this means that the makeup is not being applied in the best way possible, taking away from the overall look. In order to prevent this problem and avoid bristles falling out of the cheap brushes, a professional makeup brush set is a must.
Having a professional makeup brush set allows women to apply their makeup to achieve the best look imaginable. Properly applied makeup enhances facial features and increases attractiveness. By having a full set, whether it be 6, 12, or 22 brushes, it is easier than ever to control the amount and placement of all types of makeup.
Fan brushes, blending brushes, big and small brushes, lash and brow brushes, and hard and angular brushes are all essential to achieve the perfect look. These different types of makeup brushes are all included with a professional set, which can now be found for less than $50.
In order to assist women and makeup artists everywhere and eliminate the problems associated with cheap brushes, Blushies has provided a low-cost solution, sold on Amazon and available with free shipping to Amazon prime members. The company's must-have makeup brushes are good for eye shadow, blush, and much more. Each of the 22 brushes has its own use, is made in sophisticated dark red and black, and features a mix of natural and synthetic fibers for best results.
Blushies' affordable 22-piece makeup brush set is great for traveling, as it provides convenience, ease of use, space saving, time saving, and flexibility. A high quality travel pouch is also included in the purchase, which provides sturdy protection for the brushes to keep them in the best shape for as long as possible.
Those cheap makeup brush sets can now be avoided, as Blushies introduces its inexpensive, must-have makeup brushes. Customers will enjoy the many benefits of the company's product, including excellent craftsmanship, the fact that the brushes are lightweight, the smooth feeling bristles, and even the free education about the different types of makeup brushes and their uses.
Release ID: 66081