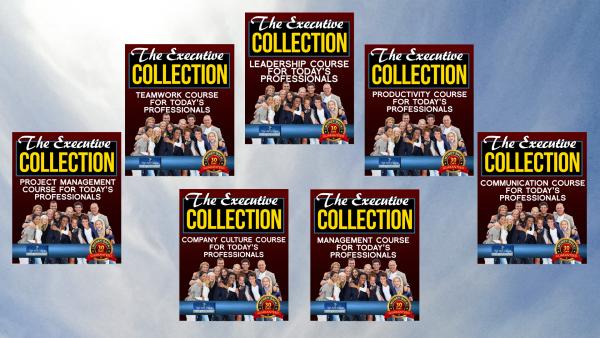 - February 4, 2020 /PressCable/ —
The AVS Marketing Group is proud to present the Executive Collection. A Complete 7 Part, Management Video Course. A Complete 7 Part, Management Video Course.
This online course cuts right to the heart of what it means to be a business. It teaches universal concepts that apply across all industries and all sizes of businesses. Topics such as Leadership, Management, Employee Productivity, Workplace Morale, Teamwork, and Company Culture. These are fundamental corporate concepts that every business needs to strengthen and grow their business, regardless of their size or location. Every business, every owner, and every HR manager wants to improve their company and develop their people in these critical areas. Now, through this Comprehensive 7-part course they can provide that transformation. A transformation that can revolutionize their business and positively impact the lives of their people as well.
The Executive Collection Includes The Following:
Leadership Course For Today's Professionals
True leadership is not just about developing yourself or managing others. It's about affecting positive growth and transformation in the people you work with. In this course we are going to show you how to do exactly that.
Teamwork Course For Today's Professionals
An organizations ability to succeed hinges on teamwork. The ability of your people to act together augment and accommodate each others strengths, weaknesses and specialties is vital to the accomplishment of your mission. They must have a shared vision, shared focus , and mutual trust. But how do you get your team to the point that they embody these ideals? How do you truly leverage the power of teamwork in the workplace. In this course we are going to show you exactly how to do that.
Communication Course For Today's Professionals
Communication is the key to a successful organization. Everything rests upon it. Leadership, management, teamwork, customer service, sales, all of these things depend on the ability to communicate effectively. But how can you effectively teach, cultivate and encourage these skills within your organization? And how can you leverage it to take your business to the next level? In this course we are going to show you how to do exactly that.
Project Management Course For Today's Professionals
Project Management requires you to balance a lot of difficult variables, and the stakes are high. In many cases, the very life of a business itself may depend on the ability of its project managers to keep operations running smoothly and efficiently. Project Management can be described as the art of initiating, planning, executing, controlling and closing the work of a team to achieve specific goals, and meet specific success criteria by a specified time. But how can you ensure that you or the project managers in your organization are operating at peak performance? In this course we are going to help you do exactly that.
Company Culture Course For Today's Professionals
The success of your business is largely dependent on your company culture. The atmosphere of the workplace, the traditions, the values, all have an undeniable effect of the performance of your teams, the moral of your workers and even your bottom line. So what can you do to foster a positive company culture? How do you ensure that when your people show up in the morning, they're both happy and proud to be there? Well in this course we are going to show you how to do exactly that.
Management Course For Today's Professionals
Becoming a good manager is perhaps one of the most difficult skill sets to develop consistently and apply of a day to day basis. That's because it is a practice made up of many disciplines. Sure, to be a good manager you need to be a good leader. That is you need to inspire, motivate and influence. But you also need to have an excellent grasp on other things like planning, budgeting, disciplining, delegating and countless more. The success or failure of your organization, depends on your ability to skillfully balance it all. So there is no room for halfheartedness, and little room for failure. In this course we are going to help you with that leviathan of all life challenges – being a good manager.
Productivity Course For Today's Professionals
If you're bleeding minutes, your bleeding dollars. In an organization made up of many people, the effect is exponentially greater. The amount of time being wasted to distraction, procrastination, or slow unmotivated work could be eating away tens or even hundreds of thousands of dollars from your bottom line. So how can you cultivate a positive work ethic and maximize the productivity in your business? Well that's exactly what we are going to show you in this course.
The 7 courses on key organizational and professional topics have been produced by an actual executive director of the John Maxwell Team.
The quality of these course's is very impressive. There is no "death by PowerPoint" here. Instead you'll find professional screen presenters, montages, motion video elements, gorgeous animations and more. All designed to capture and hold your audience's attention.
Pick up your set today and get immediate access to share with your team for this incredibly low special price! For more information on what these course can do for your team, click the link below.
Release ID: 88945061