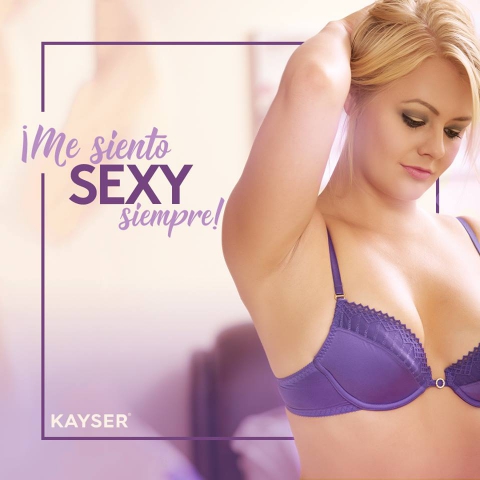 - October 15, 2017 /PressCable/ —
Kayser Intimates and Sleepwear is celebrating their 50th anniversary, which commemorates 50 exponential growth of outstanding family valued years in business. This is a huge milestone for the Santiago, Chile and Los Angeles-based intimate and sleepwear design and manufacturer business, which has provided intimate and sleepwear design and manufacturer to young mothers, children, fathers, workers, sports teams, intimate manufacturers, retailers, fitness enthusiasts, business entrepreneurs, since 1908.
Kayser Intimates and Sleepwear got its start in New York City 1908 when the founder offered the trademark to Jaime Nazal and Edward Abugattas in 1968 in Santiago, Chile. Kayser saw an opprtunity to design and manufacture intimates and sleepwear in Chile. The mission was to provide outstanding quality underwear, socks, and pajamas at affordable price points for the whole family.
One of the earliest challenges Kayser Intimates and Sleepwear faced was finding enough sewing machine operators to keep up with the demand of their customers.
While every business faces challenges, some, like Kayser Intimates and Sleepwear, are fortunate enough to enjoy real successes, wins and victories, too. One such victory came when seemingly against all odds Jaime and Edward found a really big building and wonderful people to work with to grow and become the number one intimate and sleepwear brand in Chile.
Sherwin "Ace" Ross, Kayser International Representative at Kayser Intimates and Sleepwear, was also quoted when discussing another big win. "One of the high points of Kayser Intimates and Sleepwear's history so far was having been introduced to Randy Aziz, the CEO of Creations Cindy Ann, a Montreal based Intimate and apparel company who is now the Canadian distributor. Immediately, Randy started writing orders with Canadian retailers. Within one year contacts have been signed in the Middle East, USA and Canada with distributors. The opportunity to partner with Kayser is outstanding and opens a whole new realm of online / brick and mortar possibilities with an established brand at a very affordable investment base. Kayser representative, Ace Ross, is on an unbridled rampage to get the word out to intimate and sleepwear entrepreneurs around the world of this outstanding opportunity to become a Kayser exclusive partner / distributor representing your country." Kayser provides the distribution partner with everything from amazing quality apparel, first class marketing tools including video commercials, social media content and guidance for Facebook, Instagram, Twitter, Amazon, floor plans, and fixtures.
Kayser Intimates and Sleepwear's Founder, Jaime Nazal and Edward Abugattas says "Kayser is delighted to be celebrating their 50 year anniversary. I believe the secret to getting this far in business today is "Once one become fearless, one become limitless". Remain lazer dfoucused to achieve the desired results. Experience is the best teacher." As well, there is deep gratitude that the children of the founders have been afforded outstanding education and are now guiding the global expansion of Kayser. The company is proud to be helping special need young adults with training in Kayser distribution centers and most important is the Kayser consumer base which is centered to the working class hero's and families around the world.
Kayser Intimates and Sleepwear currently consist of 800 employees and has big plans for the upcoming year. One of their core objectives is to open a Kayser Store in every capital city around the world.
Kayser Intimates and Sleepwear would also like to thank friends, customers and all its partners for their well wishes on this happy occasion.
More information on the business can be found at www.kayserinternational.com or contact Ace Ross for further information on becoming a Kayser Partner Distributor. There are many countries that would benefit from having access to Kayser beautiful intimates, socks and sleepwear. Ace Ross 213/ 884 8448 or ace@kayserinternational.com
Release ID: 250610