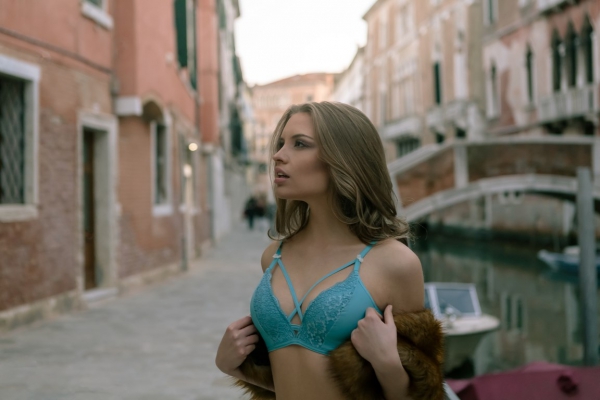 - April 26, 2017 /PressCable/ —
Resellers, retailers, distributors and interested consumers looking for the latest information on intimate fashion can register to attend 20ª Felinju scheduled from April 29 to May 1st. ACIJU organizes the event every year to strengthen Juruaia's economy and boost brands to generate business, stimulate growth of the new brands and expand the network of contacts on an ongoing basis.
Come check out the new Winter collection 17 of the Intimate Passion at the Felinju – The balance between sensuality, romanticism and a dose of mystery is the starting point of Intima Passion's Winter 17 campaign! The collection is an invitation to get lost in the numerous possibilities that the choice of a lingerie can offer and the whole atmosphere of the alleys and canals of Venice. This amazing place inspired the color chart of the collection, the cutouts and materials that refer to romanticism in ombrèe (men), handles and laces, while the sensuality is due embroidery and transparencies. Embark on this mystery!
About Felinju – Founded in 1998, Felinju is the largest intimate fashion fair in the state of MG, becoming a reference in the consolidation about intimate fashion and business. In constantly growing, has standardized stands, customized and ecologically correct ready to meet the demands of exhibitors and visitors.
About Íntima Passion – Specialized in lingerie, beachwear and loungewear, Íntima Passion for more than 10 years stands out for the development of pieces with noble materials and exclusive modeling, impeccable and comfortable, specially designed for every moment of the woman's day. With a creative team focused on fashion and behavior research, the brand usually launches four collections a year, serving in a unique way both the Brazilian and foreign consumer markets.
Full details on the event can be found on the company website at http://www.intimapassionlingerie.com.br/eventos/20…
When asked about the new collection exposed in the event, Tania Mara Rezende, the creative director, said: "The fair is a great business opportunity for any brand in the segment, and it is worth come and checking all the news! Come check out the best option for resale lingerie at the biggest event of the segment in Juruaia!"
The Íntima Passion Lingerie website has full details about the new collection at this year's event, check it at: http://www.intimapassionlingerie.com.br/colecoes/v…
Release ID: 190335