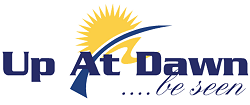 - March 16, 2017 /PressCable/ —
Up At Dawn, LLC in Waukesha, Wisconsin, has announced the general release of its new Authority Visibility Service, which has been in development for the past several months. The main benefit of this service is to give businesses an easy entry point into search engine optimization (SEO) without breaking the bank… but it does so, with a difference.
Jeffrey Kirk, Owner at Up At Dawn, LLC, says: "We wanted to try something new with our Authority Visibility Service. Anyone familiar with online marketing will probably have noticed how everyone else seems to sell some mysterious SEO services that cost a lot money, month after month, with no real good way of seeing results. This is a problem because most businesses get very little feedback for their ongoing costs. Sure, they might get some hard-to-read reports, but where is the evidence of progress?"
So as a welcome breath of fresh air, Up At Dawn, LLC will instead start at a low cost and allow a business to get success online before moving into higher priced services. Up At Dawn, LLC chose to make this move because it makes sense to work on the simplest tasks that will provide the biggest benefit. It's an 80/20 approach to online visibility. Businesses spend their money on the activities that will provide the best bang for the buck at any point in time. Plus, the evidence of progress is easy to see.
Then, as online success and confidence grows, businesses can invest their new-found earnings into more aggressive and costly internet marketing practices which helps them gain a stronger position in their market. Essentially this allows a business to grow organically using its own increasing resources.
Jeffrey Kirk also said, "We want to give our customers a chance to compete online without major startup expense. Our new Authority Visibility Service opens up new possibilities for businesses that serve a competitive local market. These clients are often the most difficult to serve, but now they can see a fresh new possibility available to them. We want them to feel like they are spending money wisely, and, at the same time, they understand what we're doing for them when using our service."
"We call this Authority Visibility because our clients will find their businesses featured by dozens, or potentially hundreds, of high profile online sources." Jeffrey concluded by saying, "This recognition gives them authority in their marketplace while also making them more visible in the search results."
Up At Dawn, LLC has been in business since 2008. Since day one, the company has always aimed to help businesses get more visibility and traffic to their websites, while converting that traffic into quality leads. This ultimately increases the number of sales that can be attributed to each business's online presence.
The new Authority Visibility Service is set to launch immediately. To find out more about the service and Up At Dawn, LLC, visit www.upatdawn.biz or their Facebook page at www.facebook.com/UpAtDawnLLC.
Release ID: 178262