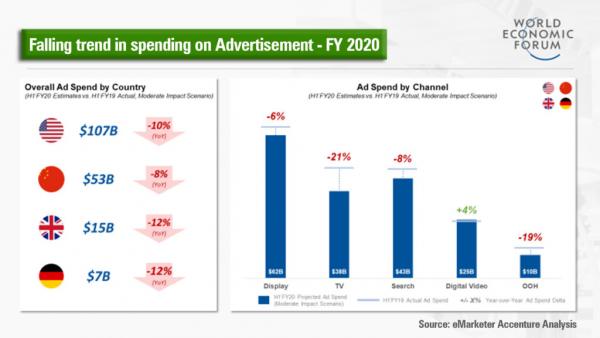 - October 5, 2021 /PressCable/ —
Despite historic economic disruptions due to pandemic, digital ad spending is growing and breaking its previous records day by day. According to the data generated by Statistica.com, digital advertising spending touched a worldwide amount of US 378.16 billion dollars in the year 2020. In spite of the impact of Covid-19 all over the World, these figures have increased as compared to the previous year 2019. For the year 2021, Global advertising spending is forecasted to reach nearly 650 billion US dollars.
As of 2020, digital platforms are considered the best source for advertisers. These platforms hold approximately 51% of total media ad expenditure in the year 2020. By the year 2022, this figure will increase by 3% percent and accounts for a total share of 54% in the total media ad spending.
As per another report generated by statistica.com, mobile internet advertising is forecasted to grow at a double speed. In the year 2020, it was rounded up to 276.21 billion US dollars which is now projected to increase to 341.18 billion US dollars in 2021 and 495 billion US dollars by the end of 2024. This could be both shocking and beneficial for those who are planning for mobile app development. Following this pattern, mobile advertising spending in the USA alone is projected to double in the coming year.
With the ever-increasing needs of consumers, industries are now open to continuous innovations. This leads to a paradigm shift in the global marketplace. As per a report published by CompaniesList, each year approximately 10% annual growth is seen in the IT sectors, providing a huge return for shareholders and investors in the last decade.
Through effective transformation practice, the potential of deep technologies including IoT, Cloud, Artificial Intelligence, Machine Learning, etc. is being utilized by the technology service sector perfectly. The use of these latest technologies is providing huge growth and numerous benefits to several sectors such as digital advertising and marketing, mobile and web development companies, eCommerce development, blockchain development, and many more.
According to the research done by Nasscom, the technology sector in India is now valued at about $1 trillion dollars. This sector has become the major contributor to global economic growth, especially in India. Improvisation in this sector is providing help to millions of people for their livelihood. Despite this, industry players are still facing challenges such as stimulating revenue growth per employee and digital literacy. However, the industry is growing at a fast pace and thus the industry will undergo a major transformation over the coming decade.
In the year 2019, the Global IT outsourcing market was valued at 333.7 billion dollars which is projected to reach 397.6 billion dollars by the year 2025. It companies are now able to provide creative applications and extensions with the help of cutting-edge technologies. For most of the organization, the IT sector has become competitive.
By the year 2025, 72% of internet users will use the web via their mobile phones. Currently, about 2 million people are accessing the web through their smartphones and this is just 21% of the global user base. The upcoming years are full of opportunities for advertisers and marketers. With the digital transformation and increasing use of technologies such as big data, blockchain, artificial intelligence, marketers and tech giants are able to rule the world at their fingertips. To this, the IDC experts have forecasted the value for Global IT spending which will soon cross the barrier of 5 trillion dollars. According to Gartner Analytics, it becomes crucial for sales leaders to adopt AI-based guided selling for closing new deals with huge profit margins.
Over the next decade, technology spending will continue to grow, primarily as a result of the rise of native technologies and digital reinventions, new technology-driven business models that include ecosystems, and direct support channels. This leads to the Growing demand for Digital 2.0 which has been accelerated by the industrialization of the cloud, AI, and cybersecurity.
With the next-generation technologies and their use in the IT sector, competitive intensities are expected to rise further. There is a strong need for a complete shift in the operating model to make the most of these opportunities.
Below are lists of the top service providers in the Marketing and Development Space:-
List of top Website development companies
List of top digital marketing companies
List of top Search Engine Marketing Companies
Release ID: 89047756