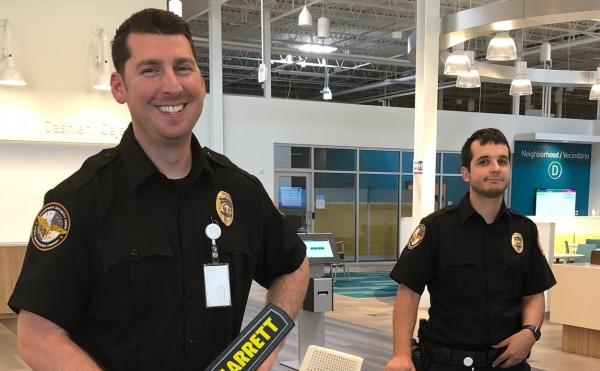 - June 4, 2020 /PressCable/ —
The COVID-19 pandemic interrupted business operations. Resuming normal or phased activities presents an opportunity to update business COVID-19 preparedness, response, and control plans.
Strategic Security in conjunction with normal service offerings, now has two specialty officers to combat COVID-19 threats and comply with new regulations. One of Strategic Security's 56 branch office managers located throughout the United States will provide free of charge consulting services to inform businesses of the best combination of these officers and technology services to fit their corporate culture and specific location.
Strategic Security services now include:
1. Strategic Temperature Screening Officer
2. Strategic Social Distancing Officer
All employers should implement and update as necessary a plan that:
A. Is specific to each business workplace,
B. identifies all areas and job tasks with potential exposures to COVID-19, and
C. includes control measures to eliminate or reduce such exposures.
HOW DOES IT WORK?
All employers need to consider how best to decrease the spread of COVID-19 and lower the impact in their workplace. This should include activities to:
A. prevent and reduce transmission among employees,
B. maintain healthy business operations, and
C. maintain a healthy work environment.
Strategic Security is providing guards to perform skin monitoring temperature screening utilizing a non-contact, non-touch infrared thermometer or utilizing non-contact and non-invasive thermal imaging machines.
Strategic Temperature Screening Officer: Utilizes and enforces PPE policies while monitoring fixed thermal temperature scanning systems and/or perform manual screens with handheld devices. Advance visitors to secondary screening or allow passage.
Strategic Social Distancing Officer: Monitors the number of people that enter the building in accordance with designated occupancy. Tactfully informs individuals and note social distancing violations. Maintains an accurate count of those leaving the location as well.
Strategic Security is an authorized reseller of 5 different non-contact and non-invasive thermal imaging machines that range in price from $2,500 to $30,000 so we have a machine at everyone's price point. Strategic has already deploying these machines at Government and commercial distribution / fulfillment centers as well as seeing these machines being implemented in businesses, hospitals, airports, etc.
Download your free COVID-19 REOPENING CHECKLIST
Release ID: 88960006