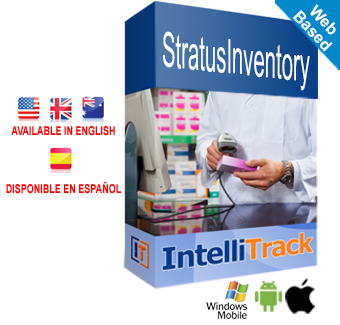 - February 10, 2016 /PressCable/ —
IntelliTrack Inc. has now released the Spanish version of its cloud based suite of inventory management software. Responding to a real need in the industry, IntelliTrackmanagement has delivered on its commitment to provide its Stratus line of products in a bilingual Spanish/English format. From tracking consumables with Stratus Inventory, Stockroom or Package Tracking to managing order fulfillment with the robust Stratus ISRP, business owners can now maximize the productivity of their Spanish speaking employees for whom English is a second language.
"We knew there was a demand for inventory management tools in both Spanish speaking countries and our own American bilingual operations," says Ron Pawlowski, IntelliTrack COO. "We believe our Stratus products provide the solution. The software is not just translated. It actually incorporates Spanish terminology as it is spoken in the industry."
Warehouse operators will recognize the obvious benefits in taking advantage of the Spanish version of IntelliTrack Stratus inventory software:
– Increased productivity as Spanish warehouse workers understand info more easily – More confident Spanish speaking employees – Increased efficiencies when workers can switch software quickly from English to Spanish in a bilingual operation
Whether the operation is staffed completely by Spanish speaking employees or just a few, access to Spanish IntelliTrack Stratus software on demand maximizes the efficiency and effectiveness of the inventory management system. IntelliTrack is an industry leader in providing affordable, user friendly inventory management software. With more than 25 years of corporate experience in developing, installing, and supporting barcode and RFID technology, IntelliTrack professionals were well placed to see the emerging need for software in Spanish. These specialists can address the simplest and most complex inventory management issues, including language issues. They are available to review operations and recommend the best software and hardware for tracking inventory. For more information on the Spanish version of IntelliTrack Stratus products, check out the website orcontact IntelliTrack.
Release ID: 103500